SPARSH GUPTA
Businesses mainly exist to make money, but for us, the purpose is to be one of India's most respectable software companies delivering globally admired products. We chose the path of bootstrapping because we don't think many financial institutions will align with our inevitable long journey where the end goal is not 10x more money. For Wingify, revenue and profitability are enablers but not the final destination. We are building a company that can survive 100 years, and being true to the vision is the ultimate joy. Though this has kept us all motivated, the world often judges a company's success by the valuation and money they have raised. Since bootstrap businesses don't compete on this axis, the next-order implications can sometimes come across as challenges.
SRIDHAR VEMBU
Even in good times, we had to pave our own way. There was no other external source of money. That often feels like you are losing because other guys who took money are growing faster or even dominating the market. But I was not comfortable with it because I was never going to sell the business. If you are spending more than you are taking in, that will never be a good idea because, in a downturn, you would have to have this difficult conversation with your investors. We, on the other hand, were always making money throughout the recession.
RITESH ARORA
Founders keep learning and keep evolving, so my opinion keeps changing on this. Given a choice, I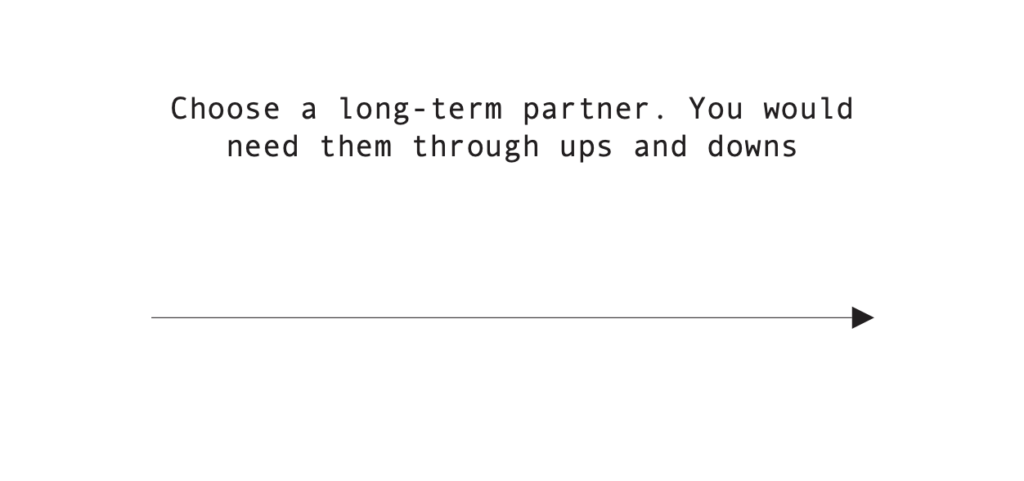 would make a bootstrap no matter what. Your ability to make decisions in the company in whichever direction is like taking risks—you are in control on both good days and bad days. That is unmatched, the ability to do that. But it comes with a downside —you are probably playing on your own. You don't have someone helping you, pushing you in the right direction.
Be extremely frugal and take money from your parents and family; it is okay. I used to take money from my father. I might be one of those rare commodities—you do computer science from IIT Bombay, don't do a job, and still, ask your father for money. You want to keep it like that. That brings in that habit of frugality. The moment you take the path of raising money, you will build up the habit of spending money, not saving money.
ELAD GIL
The biggest reason I've seen bootstrap young startups fail (outside of the normal modes of startup failure, which are largely either a lack of product-market fit or co-founder conflicts) is that they don't establish a proper board of directors or some form of true advisory capacity where people are meeting with them repeatedly and forcing a conversation around planning, growth, and direction and then it doesn't have to be tied to governance. If you think about it, venture capital is a bundled product—a bundle of advice, governance, and money. In reality, people great at allocating capital and making investments may not actually be very good at giving advice on governance. People who are good at giving advice may be bad at choosing companies to work with. There are all sorts of co-founders, but the fundamental point is that, as a startup, you want to have all three,
I THINK INVESTORS IN INDIA HAVE MODELS, AND THEY TRY TO BUCKET YOU INTO ONE OF THOSE MODELS IMMEDIATELY. AND THEN, IF YOU DON'T FIT INTO ANY ONE OF THE MODELS, THEN THAT'S IT. I DON'T THINK THERE ARE INVESTORS IN INDIA WHO TAKE RISKS, AT LEAST WE HAVEN'T FOUND ANY.

-RUSHABH MEHTA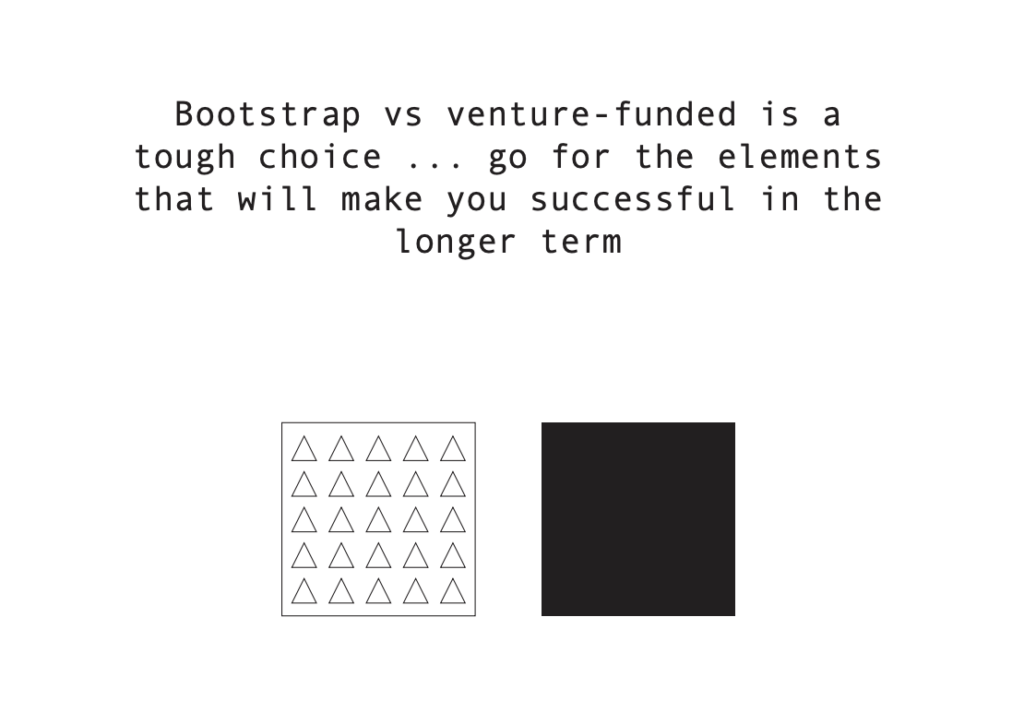 and the capital could come from bootstrapping but you should figure out advice and governance. That is where I often see bootstrap companies fail in terms of really optimizing what they could be. They fall short because nobody is asking them certain questions that are typically asked. "How can you grow faster?", "Do you have the right executives in place?", "Is that incumbent entering the market a real threat or not?"
RUSHABH MEHTA
We have invested around a crore in the business, which is good bootstrap capital, and that has been running. I have talked to almost every investment VC firm and they look at me and say "this guy is not somebody who we can fund" because I don't think there is patient capital in India. I don't know my CAC (customer acquisition cost), my LTV (lifetime value), we don't do sales incentives, we don't have a sales target either in the company. So, any investor looks at me like this guy is not interested in doing business. I think investors in India have models, and they try to bucket you into one of those models immediately. And then, if you don't fit into any one of the models, then that's it. I don't think there are investors in India who take risks, at least we haven't found any.
*Sridhar Vembu comments are from the Outliers Podcast hosted by Pankaj Mishra ©️SourceCode Media Private Limited
KEY TAKEAWAYS
THE SUCCESS MANTRA OF BOOTSTRAP: BALANCE REVENUE AND SPENDING 2.
BOOTSTRAP GIVING FREEDOM OF THOUGHT AND CONTROL, MARRY IT WITH  ADVISORS WHO CAN ASK YOU TOUGH QUESTIONS