Learning from a playbook that doesn't have your active participation as one of the key actors is clearly a borrowed learning. Absolutely nothing wrong in doing that, except that you must realize the importance of the context and the playground where such learnings are realized. One size doesn't fit all. Period. In this section, for instance, the timing or the threshold required for onboarding a seasoned executive team is a function of your business, product adoption, and so many of the other signals that define the readiness of your startup in bringing in a chief experience officer (CXO).
ELAD GIL
If you are a first-time founder in particular or have never run a team to scale, your instincts are often to hire very smart individual contributors. You often don't really understand the leverage of having a great executive in place. That's why sometimes when you see second-time founders start a company, within their first 15 people, they have three or four VPs and a CXO. Often, as a first-time founder, you ask why does this person needs all these executives? It's only a 50-person company! But then, after you have been through a big company and team scaling experience yourself, you realize the enormous leverage you get by building an executive team.
SUDHEER KONERU
One thing is definitely there in our case, and that should apply in other cases as well. Dheeraj—Dheeraj used to head sales—and I, we both made it our single mission to focus on the US. That means we abandoned everything else. We left it all to somebody else to deal with it, and I will not worry about it. So the founders need to become obsessed and personally go drive sales. Often, founders come and ask me what kind of VP of sales should I hire in the US who will help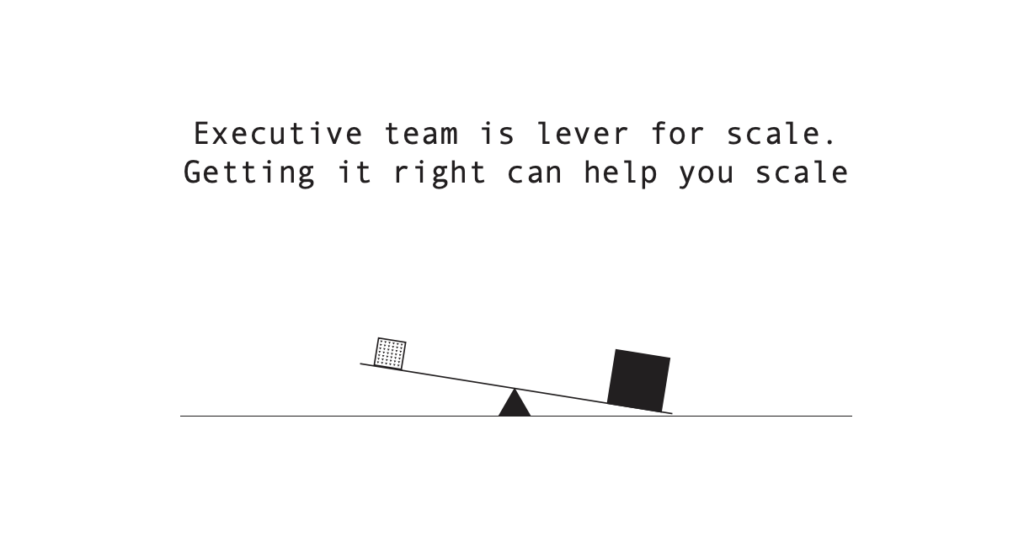 me. You should approach it, like, I am just going and starting my company all over again. If you approach it like a market you are trying to hire a sales leader for, it won't work. But you have to say whatever company I built was the wrong company, so let me go start it again kind of stuff. You got to go and sit down in the US and understand your customer all over again, do the market fitment, sell. You may need some help, you may want to hire a local person, one or two people, but the founding team has to truly approach it like a 'let's start a new company' kind of mindset.
PRUKALPA SANKAR
The first three leaders that we hired in the company— and I was really proud of these hires, like they were marquee hires for us—they came in, and in three months we realized that they were not performing, and that was really hard for us because when you hire leaders, you bring them in, you bring them in a certain way to the team. The team starts wanting to look up to them, and then they don't perform, and then you start questioning yourself and saying, is it me? Is it me, or is it them? Are we doing something wrong? We had to let them go, and then we had to rebuild the culture almost from scratch. That was a very hard period for us, in general. But the biggest learning I took away from that was that every context is different, every company is different. Just because someone has been able to do something successfully somewhere else, it doesn't mean that they can do it
BUT THE BIGGEST LEARNING I TOOK AWAY FROM THAT WAS THAT EVERY CONTEXT IS DIFFERENT, EVERY COMPANY IS DIFFERENT. JUST BECAUSE SOMEONE HAS BEEN ABLE TO DO SOMETHING SUCCESSFULLY SOMEWHERE ELSE, IT DOESN'T MEAN THAT THEY CAN DO IT IN YOUR CONTEXT TOO. SO, JUDGE PEOPLE BY THEIR ACTIONS, JUDGE PEOPLE BY THEIR SKILLS, JUDGE PEOPLE BY THE CONVERSATIONS THEY CAN HAVE WITH YOU, THE ACTUAL WORK YOU SEE. DON'T JUDGE ANYONE BY, YOU KNOW, TITLES, OR EXPERIENCE, OR ANY OF THAT. THAT IS THE BIGGEST LEARNING THAT I HAVE TAKEN AWAY FROM HIRING FOR THE FUTURE.

-PRUKALPA SANKAR
in your context too. So, judge people by their actions, judge people by their skills, judge people by the conversations they can have with you, the actual work you see. Don't judge anyone by, you know, titles, or experience, or any of that. That is the biggest learning that I have taken away from hiring for the future.
ANEESH REDDY
There is one good guideline, "If something is not broken, don't fix it." Thinking that five years later it would be like this or that or maybe two years later it should be like this. If you do not see things break, don't fix them, especially on the engineering side because India inherently has very good engineering talent. I do think we have very solid engineering talent and none of our guys is someone we have got from other companies. These are all like, you know, straight out of IIT or a good place, so inherently, the talent is very strong, and whenever we have tried to corrupt it by saying "no, no five-year view, people who have run 200-member teams", it has always flopped. It's probably a culture thing; engineering is a very culture-heavy part of the business.
Hiring the proverbial "first VP of sales"
ELAD GIL
There are a few different signs, but part of it is also the degree to which you have done customer development before you have shipped the product. Some companies hire a VP of sales really early, simply because they feel they have proven that the market exists. They may hire a VP of sales a few weeks before a launch so that as you actually launch an enterprise or SaaS product, you have somebody who's really driving the go-tomarket (GTM) motion. Often that happens in cases, for example, where you have built an adjacent product before, and you know there is a real need, or where you build the same thing internally over and over for internal customers, and then you are now selling something externally. PagerDuty was a good example of a company where every engineering team eventually built a PagerDuty-like tool, and then they just built it for everybody. So, there are some moments where it is kind of clear that what you have is going to be needed, and you want to hire somebody even before launch.
ASHWINI ASOKAN
We hired our first VP of sales at $2 million in revenues to help build a sales org and to make the shift from founder-driven sales to GTM org-driven sales.
PARAS CHOPRA
One mistake we made was to underestimate the importance of go-to-market. When I say go-tomarket, I mean hiring salespeople, building customer success and account management, and even simple things like actually investing in paid advertising. Both Sparsh and I being engineers, there are pros and cons to everything. The problem was that we were engineers, so we were just very knee-deep into building great products, and we thought that a great product would do everything by itself. The company will grow behind its back and we don't know why we need sales, why we need marketing, and so on. But, over time, we realized that we are in the business of delivering value to humans, and the product is one way of delivering that value, but humans like to get on a phone call sometimes and talk to people and interfaces and screens can only go that far into doing that. Very reluctantly, we hired our first salesperson, and that is when we realized, wow! There is a ton of value we can create if we focus there!
SUDHEER KONERU
I feel it's better to hire a consulting firm. There are some decent quality sales consulting firms that can help you understand how you are pitching, what you are doing and help you refine that for the market. They are more useful than hiring a VP of sales, I feel.
ONCE YOU HAVE GOT YOUR, I WOULD SAY, FIRST FIVE TO TEN CUSTOMERS ON THE ENTERPRISE SIDE, AND YOU HAVE A REPEATABLE PLAYBOOK, THAT'S THE RIGHT TIME TO GO AND HIRE BECAUSE WHAT A VP OF SALES CAN'T DO FOR YOU IS CREATE THAT INITIAL PLAYBOOK WHICH A CUSTOMER WANTS TO BUY FROM YOU. BUT WHAT I HAVE SEEN GOOD SALES LEADERS DO IS THAT ONCE YOU HAVE A PLAYBOOK, THEY SELL THAT TO MORE PEOPLE, THAT THEY DO WELL.

-ANEESH REDDY
OVER TIME, WE REALIZED THAT WE ARE IN THE BUSINESS OF DELIVERING VALUE TO HUMANS, AND THE PRODUCT IS ONE WAY OF DELIVERING THAT VALUE, BUT HUMANS LIKE TO GET ON A PHONE CALL SOMETIMES AND TALK TO PEOPLE AND INTERFACES AND SCREENS CAN ONLY GO THAT FAR INTO DOING THAT. VERY RELUCTANTLY, WE HIRED OUR FIRST SALESPERSON, AND THAT IS WHEN WE REALIZED, WOW! THERE IS A TON OF VALUE WE CAN CREATE IF WE FOCUS THERE!

– PARAS CHOPRA
In fact, the first two people I hired in sales never worked out. I thought they were from the industry, and it would work out, but it was totally useless.
ANEESH REDDY
Once you have got your, I would say, first five to ten customers on the enterprise side, and you have a repeatable playbook, that's the right time to go and hire because what a VP of sales can't do for you is create that initial playbook which a customer wants to buy from you. But what I have seen good sales leaders do is that once you have a playbook, they sell that to more people, that they do well. I would not put it as time; I would put it as once you have got ten meaningful customers who are sticky and happy and you know exactly how to sell to the 11th or 12th guy, that's the time to go and get a good sales leader. We were very late on that. By the time we got sales leaders or salespeople into the company, we had some 40–50 customers. And that time, it was very painful to grow and also hire a team and also ramp them up. So we were definitely quite late on the sales hiring side. Similarly, on engineering and stuff, I wish I had not hired a VP of engineering.
KEY TAKEAWAYS
HIRING FOR THE FUTURE AND MANAGING THE PRESENT
READ THE SIGNALS FOR GETTING THE TIMING RIGHT
FOUNDER CXOS WEAR MULTIPLE HATS