SaaSBoomi started on November 24, 2018, when India's leading SaaS founders met to lay out its values, set its agenda, and chart the road ahead. But the roots of SaaSBoomi and its pay-it-forward culture go much deeper.
March 2015 – The precursor
In Chennai, 70 SaaS founders gathered together for the first time at an event called SaaSx. The half-day event had three sessions, and all were very unconference-y. The entire audience participated in the last one.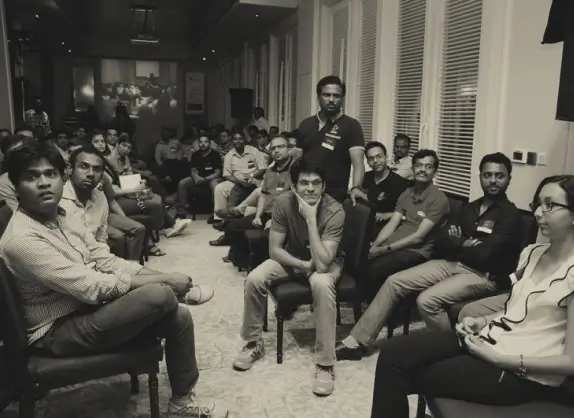 Initially, SaaSx happened every six months in Chennai and it was good to see the tribe grow from 70 to 250 founders in less than 2 years. The format remained the same…half-day session where founders opened their playbooks. Nothing got posted on social media…just some photographs….but no content from sessions.
December 2016
PNGrowth was a 3-day bootcamp for founders who had scaled. It was for only 50 founders at a time.
March 2017
The 4th edition of SaaSX saw around 250 founders from all over India. While 250 attended, the ecosystem had 700+ founders from India building SaaS companies by then.
August 2018
Launched SaaSE, a platform around Enterprise Sales for 50 SaaS startups. Later on this became SaaSBoomi Enterprise. This was focussed on Sales and held in Bangalore for a full day.
January 2019
Launched SaaSBoomi in Chennai, which saw 400+ founders. This one was the first official SaaSBoomi conference and lasted two full days with lots of networking options. VC Connect was introduced and many startups got an opportunity to meet VCs and get feedback. At this time, the ecosystem had close to 1500 founders building SaaS companies.
August 2019
2nd edition of SaaSBoomi Enterprise (formerly called SaaSE) in Bangalore had 50-75 startups. Again, it had deep conversations as founders opened their playbooks to help their early-stage peers.
January 2020
2nd edition of SaaSBoomi Annual in Chennai saw 500+ founders. Content was the highlight and all sessions got an NPS score of above 80. We had close to 1800 startups that were part of the SaaSBoomi network by then.
July 2020
Launched SaaSBoomi Growth with around 125 startup – our first virtual event. We had close to 300 attendees for the session.
November 2020
Launched 'SaaSBoomi Build' for Product & Tech Excellence for 250 leaders. Again, this resonated with the community as many of the leaders were unable to participate earlier when SaaSBoomi's focus was more on building the community for founders.
December 2020
Launched SaaSBoomi Awards. We got around 130 applications for 8 categories of award nominations.
August 2021
Launched the SaaS Landscape report in partnership with Mckinsey. This was the first of its kind industry report on SaaS with around 1000 companies participating in a survey for it. And the trillion dollar dream became the mission for SaaSBoomi.
December 2021
India SaaS Story book launched. A book For Founders By Founders. This was an effort to bring out lessons and insights from scale founders. Copies of the book were sent across to the entire community of around 2200 founders.
November 2021
SGx started as a cohort-based program around growth for founders who had crossed 1Mn in ARR. It's a 3-month program where founders give their time to help fellow founders. We completed 3 cohorts by the end of 2022, deeply engaged with 18 startups, and moved the needle for them.
May 2022
First Badminton tournament which had 100+ participants from all over India. We started this initiative to catalyze bonding between founders and create a platform to know each other well. By this time, the SaaSBoomi Community had reached a milestone of 2500+ founders.
June 2022
Launched SaaSBoomi in the US with a 7-day trip. This was an initiative to help companies build their network in the US and also get access to their playbooks. We had 45 startups on the trip.
September 14-28 2022
Launched the first edition of SaaSBoomi Caravan along with a summit with 150+ founders traveling from India to the US. SaaSBoomi had become a 3000-member community attracting deep interest from Singapore and other emerging markets keen to be part of the community.
November 24, 2022
On SaaSBoomi's anniversary, launched a booklet: 'The Story of SaaSBoomi: People and ideas shaping India's pay-it-forward community of SaaS founders'
March 2023
SaaSBoomi gets a CEO, our founding volunteer Avinash Raghava, and also a governing council of seven for a two-year term.
March 17 & 18, 2023
Annual '23, our largest conference so far with 1,183 attendees in Chennai. We gave away the prestigious SaaSBoomi Startup Awards in 7 categories. Launched our diversity initiative, spearheaded by Ashwini Asokan, founder & CEO of MadStreetDen.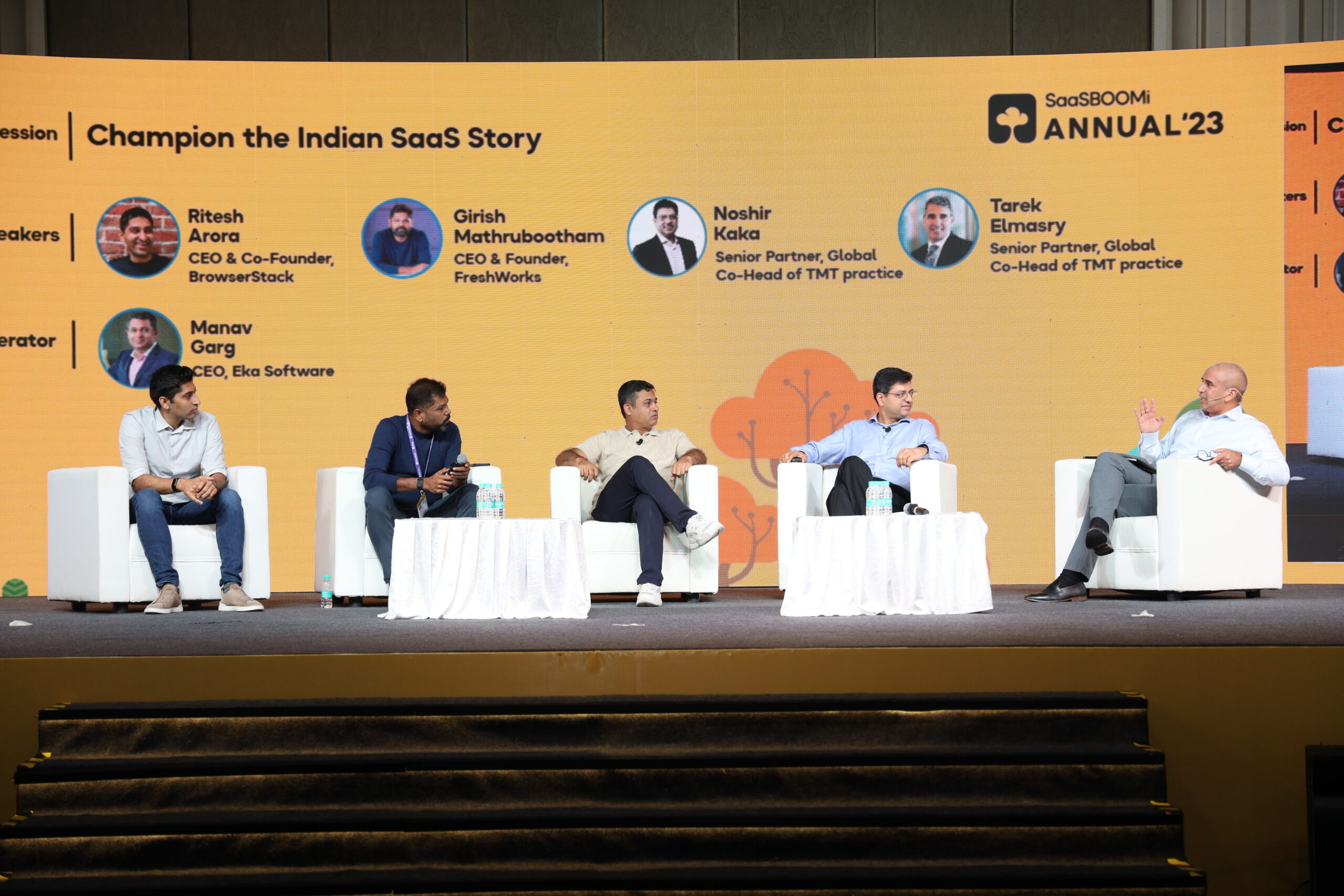 May 26, 2023
Start of Singapore Chapter. Hosted a roundtable and a Social in Singapore for the first time.
June 2, 2023
SaaSBoomi Badminton League 2nd edition in Bangalore. More than 180 players from startups all over India participated.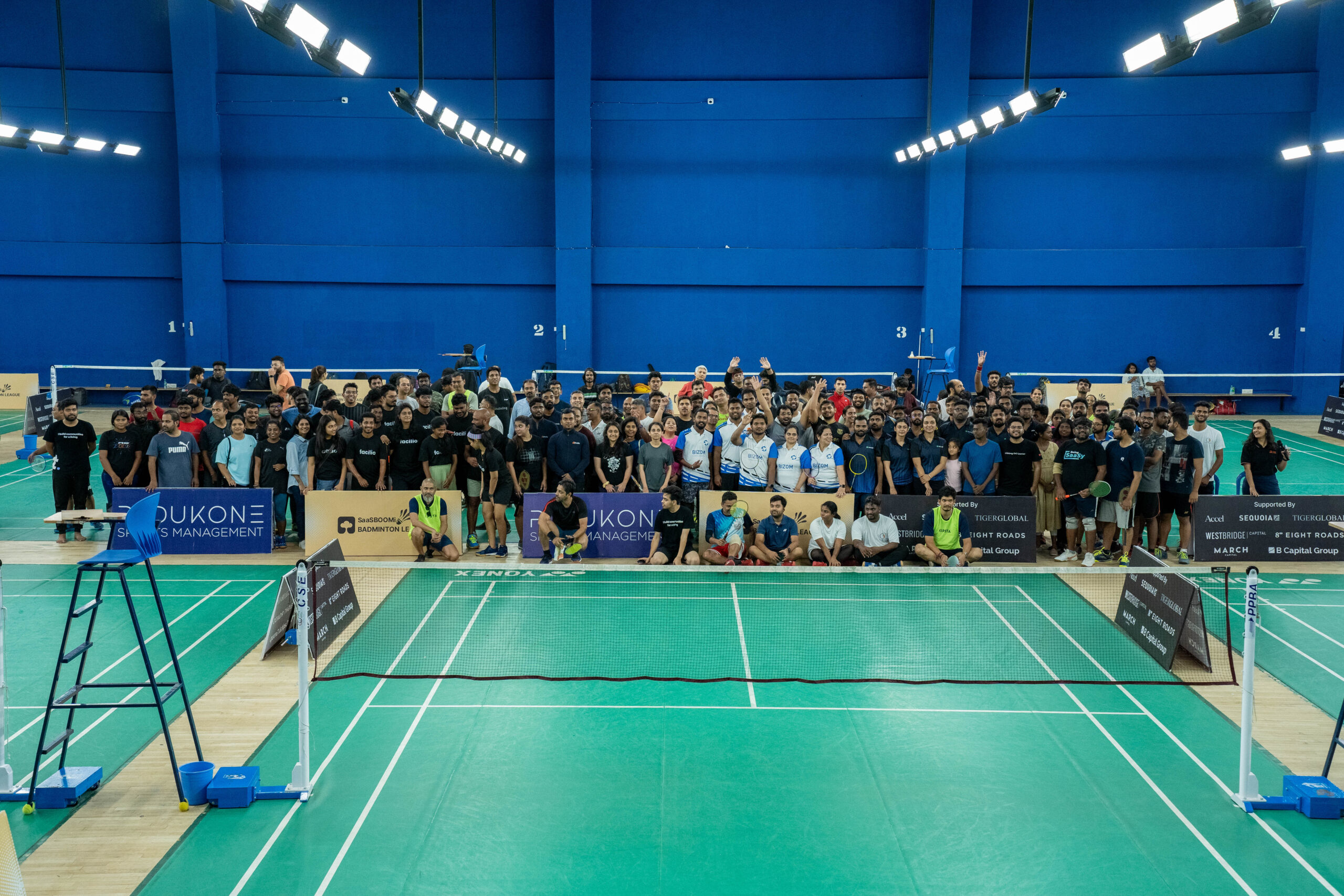 June, 2023
SGx 4th cohort graduation ceremony. Two startups from the earlier cohorts – Pipecandy & Wingman – got acquired.
July, 2023
India SaaS Landscape report, with McKinsey, launched. Over 200 attendees took part in the launch event covered by all leading media publications.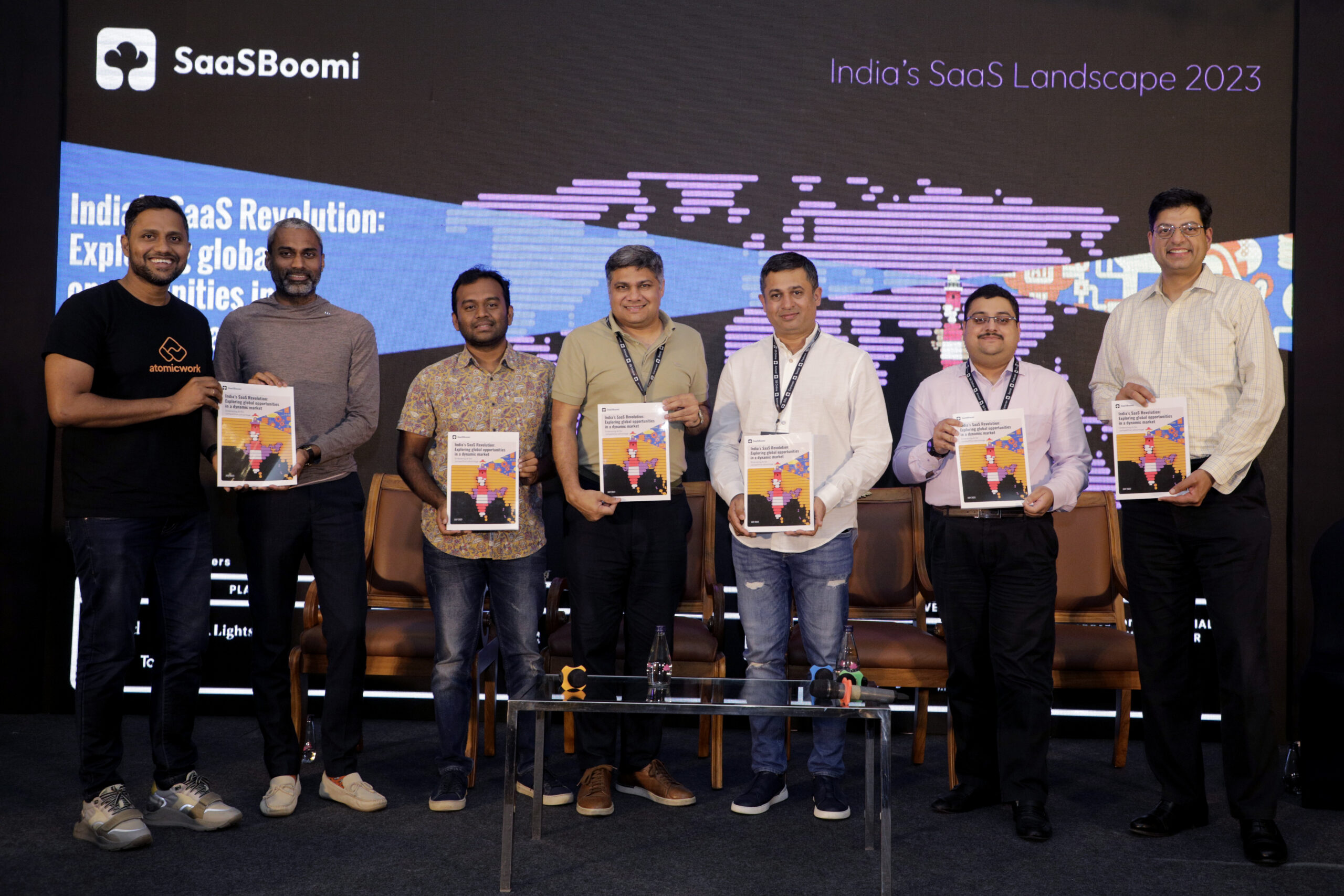 Around 8 city chapters activated and more than 30 roundtables hosted across these cities in the past 6 months
Aug 24-25, 2023
Scaled founder's retreat: 17 curated founders running startups with over $15 million ARR met in the outskirts of Bangalore for two days, exchanged notes, bonded, and learnt from each other.
Sep 8-15, 2023
US Caravan at Bay Area! Over 250 founders travelled from India to be part of this unique US GTM journey, make connections, and learn.