When Guru Hariharan left Amazon, where he applied machine learning to build an automated vendor management system, his vision was that the future of ecommerce was going to be algorithmic. As an entrepreneur, he knew the value of AI/ML to other retailers as well as retail brands for whom ecommerce marketplaces accounted for 90% of their sales.
What he didn't know as a vertical SaaS founder was that product-market fit, sales, and product marketing could be so different from what's gospel in horizontal SaaS – because most SaaS products are horizontal and playbooks are mostly written for them. His lessons came from the painful mistakes he made while deploying a pricing engine for retailers in his first venture, Boomerang Commerce, whose retail analytics platform Lowe's acquired in 2019.
Hariharan was wiser in his second venture, CommerceIQ, which became a unicorn within three years, bringing automated retail ecommerce management to consumer brands selling on channels like Amazon. In Part 1 of this story, we looked at how he pushed back initially when VCs clamored for hypergrowth and why he set down a rule for his team to go after C20 (first 20 successful customers) instead of chasing ARR at the outset.
Takeaway 1: Target the bull's eye
Inescapably, there were missteps on the way to finding ICP (ideal customer profile) and locking in the C20. This led to a colorful playbook to launch products in vertical SaaS, where sales teams had a target with a green bull's eye. 
"Once you've achieved even a small product-market fit within a sub-segment, you mark that territory green. We had around 70 prospects in the first year of CommerceIQ, which we literally called green accounts. We told the sales team, 'that's the bull's eye'," says Hariharan. 
"We are the world's best in that bull's eye; around that is yellow, and then red. Yellow is where the product is applicable, but we are not using the right language. I cannot go to a consumer electronics company and talk to them about replenishability. You talk about replenishing diapers and cereal boxes, but you're not replenishing TVs, right? The concept of out-of-stock is still valid. It just has to be communicated in different words."
The tricolor target board then became the GTM (go-to-market) strategy. Green accounts are where solution consulting and account executives are allowed to go and sell. Yellow accounts are where account executives can go and sell, but it's product marketing and not solution consulting that helps the salesperson achieve the sale. Then there are the red accounts where account executives are not even allowed to sell, although they can bring leads. Red is where the product people have to do the hard work for PMF.
"That's how we achieve PMF in a small bull's eye, expand it with product marketing, and further expand it with product management," says Hariharan. "The roles and responsibilities of each of them are unique, unlike horizontal SaaS where you're achieving some product-market fit and then giving it to solution engineering or sales consulting to do it in the wild out the gate." 
Takeaway 2: Move MVP to the bin
"The Lean Startup and all those books will tell you that if you've perfected it or you're above 60%, you're already too late to the market. Well, in vertical SaaS, it turns out to be incorrect," says Hariharan. "Even now we're launching a plugin on Walmart. We have very high confidence in the product and that we'll have PMF there within a quarter. But we're not going out and selling it until we hit the C5 (five successful customers) metric for a new product. We don't call it a launch until we have C5," says Hariharan.
It means moving one of the most familiar acronyms in the SaaS industry – MVP (minimum viable product) – to the bin.  
"In vertical SaaS, the TAM (total addressable market) is limited and you have to be careful how many accounts you burn through. It's a small world and if word gets out that a company is driving very hard, but their product sucks, then it can have a very long tail effect in a small setup where everybody's connected to everybody. Reputation is everything in this market, whereas in a horizontal market, if you mess up on one or two customers, you can cool it down for some time and focus on something else."
Think about the classic horizontal SaaS company Salesforce, whose CRM (customer relationship management) product can be used by any company, whereas a vertical SaaS company like Veeva sells its CRM only to pharmaceutical companies.
A big lesson Hariharan learnt from his previous venture was not to burn bridges while experimenting, because "it can bankrupt you in a vertical market."
Veeva's Peter Gassner talks about professional services being a significant portion of how he does business. "That's not for ARR; it's for creating the reputation that you are the best in CRM in life sciences," says Hariharan. "We are the best when it comes to REM (retail ecommerce management). That's why not burning bridges in the PMF stage was very important."
Providing professional services, either for a fee or free, is generally frowned upon in the software product industry, but it can be a necessity in vertical SaaS to go deep with each customer and raise the ACV (annual contract value). Here it's equally important how you set up the expectations of customers.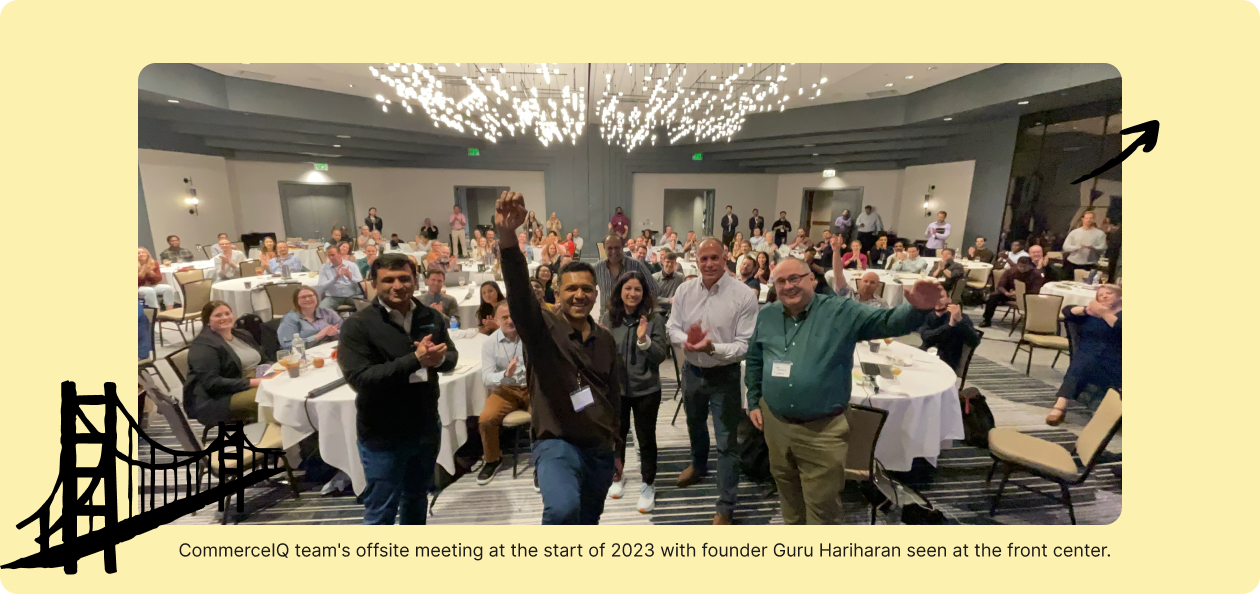 Takeaway 3: Make customers your partners
"One of the first marketing emails that I sent to my entire customer base had this subject line: Startup CEO seeks product feedback," says Hariharan. "I can't tell you how many responses I got from VPs and C-levels at large brands saying this was such a refreshing email to get. Many said they would love to contribute back to the industry because 'you're not just selling me something, you want to actually get product feedback'." 
Each ICP brand becomes a mini-market in itself when the TAM (total addressable market) is relatively small compared to horizontal SaaS. Expanding the SAM (serviceable available market) and increasing the ACV (annual contract value) then become the cornerstones of the growth strategy.
"In the first year, we started with one product. Now, within four years, we have five products. So our average ACV increased from 60k to about 350k," says Hariharan.
For example, CommerceIQ landed in a Fortune 500 company with just sales and operations in 2019 for an ACV of $120,000. Then it kept expanding into the customer's subsidiary companies. It also kept adding modules, such as retail media management. And it added support for more retailers. In that way, the ACV ballooned to $7 million last year, and even that may have only scratched the surface.
That's just one brand. This is replicated in every ICP or green account. Then the working playbook is applied to the yellow segment. Blueprints are made for each of those – adding more modules, adding more retailers, and so on. For example, last year it expanded to the automotive industry, home improvement, kitchen goods, office and school supplies, alcohol, and even apparel companies, from which it had initially pulled back when the product was nascent.
In this way, establishing itself as a leader in retail ecommerce management, CommerceIQ doubled its number of customers and revenue for the second consecutive year in 2022. It also doubled its headcount across the US, UK, and India. Hariharan believes a looming recession is even more reason to double down because profitability on ecommerce channels like Amazon will become more important to retail brands.
The CommerceIQ experience shows that the metric that's paramount in a vertical market is NRR (net revenue retention). "In our case, it has been hovering around 140-150%," says Hariharan. "When your target market itself is about 5,000 brands that you can sell to, each brand starts to become like a market in itself. We have one rep, or sometimes two, assigned only to a brand and they keep increasing the value within that company. An enterprise rep can actually hit their quota in 2023 by just selling to one brand."
At the same time, he keeps an eye on customer concentration. No single customer accounts for more than 10% of CommerceIQ's total revenue.
"The important thing is to have a product vision, and fleshing out the vision with the customer," says Hariharan. 
Takeaway 4: Slice up the pizza
"When we go to a customer, we say that we will create an operating system for you consisting of five segments: data, content, media, supply chain, and sales. And for each of them, we have smaller pizza slices or sub-segments," says Hariharan.
So a customer could start with three small pizza slices, and then ask for more according to requirements. One customer may say, 'MAP (minimum advertised price) enforcement is super important to me.' Five others may say 3PL (third-party logistics) is a big problem for them. Based on these inputs and demand, CommerceIQ gets to prioritize pizza slices or carve out new ones. And each additional small pizza slice gives a $500k uplift in ACV.
Each of the pizza slices can represent billions of dollars in TAM. Some companies have grown big by focusing on just one slice of the retail ecommerce pizza. Salsify provides product information management for brands to win on the digital shelf, and it's close to becoming a public company. Bazaarvoice specializes in supporting the syndication of product reviews and ratings. 
So getting to a $7 million ACV in one brand doesn't mean you become a professional services company, says Hariharan. "In our case, we mapped out all the problem areas that a brand has to solve in retail e-commerce. Then we mapped each of those sub-slices on a quadrant showing where is the highest urgency and where is the largest TAM. Then we started to work our way back from this quadrant."
What it shows is that despite the constraints in vertical SaaS, like TAM being limited or the need to wait beyond MVP for product launch, there are advantages too. That's because it blows another oft-quoted horizontal SaaS maxim out of the water – that it's not a winner-take-all market and the market share of a leader in any segment is <20%. A vertical SaaS leader can, on the contrary, win 30-50% of market share in a segment. That explains how Veeva can have a market capitalization nearly twice its TAM, even after the crash in cloud software stocks because of a fear of recession. 
"You can definitely create a large enterprise value by focusing on a vertical market," says Hariharan. "If you're the winner, you can take the lion's share of the market value."
Read Part 1: What India's vertical SaaS unicorn had to unlearn from horizontal SaaS playbook