An old friend worked hard for years and launched his SaaS product. It was a high-quality product, so he got the initial few sign-ups. But, the business barely moved after that. It was almost as if his product was invisible. And to an extent, it was. 
The product description on his website reads like this: Visit us for the best software solution for e-payment, mobile payment, online payment, cardless payment, digital payment, and instant bill payments. 
Do you see what is wrong with this sentence? All the product descriptions are practically the same. They are generic and likely to drown in a sea of commonly used words, pushing the website to the back pages of the search engine. And this is what happened. While my friend perfected the product, he missed out on investing in SEO. 
The worst thing that can happen to a startup is to land on the second page of Google's search results. It is mostly deserted. Customers don't have the time or patience to go deeper, so if your website isn't among the top 10 results, that's the end of the story. If your SEO game isn't strong, nothing else matters. 
There are millions of tips and tricks on how to make your website stand out from the crowd but, unfortunately, there is no magic formula that works best. But there are some useful tools on the internet to help your SEO game become stronger. 
When I was called in to do an AMA with the SaaSBOOMi members, I was thrilled. It was time to help give back to the community. It was a lively conversation, I had to use all my three decades of experience in SaaS and IT, to give founders, senior operators, and members answers to their questions.
Start with SEO, then software
If you have to spend money on something, spend it on SEO. If your website doesn't rank, all your efforts will be futile, this is the mantra I repeat to all founders. 
First, a word of caution. This doesn't mean you spend thousands of dollars on paid ads that appear at the very beginning of the search engine. Budget, optimize, strategize, and then decide where you want to spend your money.
So, what if you have multiple products? You must give priority to the product that has the maximum revenue potential. If your company has AI solutions for workplace access and HR automation, decide what is your core asset. Once your key service occupies valuable real estate on the Google search engine, its bots will automatically crawl your website for relevant add-ons. 
Where to start?
Not just us, even some of the oldest hands at Google won't have all the answers for SEO. Because it changes almost every day. But there are some dedicated tools that come in handy. 
Use either Ahrefs or Semrush to help drive organic traffic to your website. The premise is simple: these SEO tools will provide information on creating SEO-friendly content and suggest modifications. But it's important to invest in the paid versions to find keyword suggestions that are relevant to your industry audience.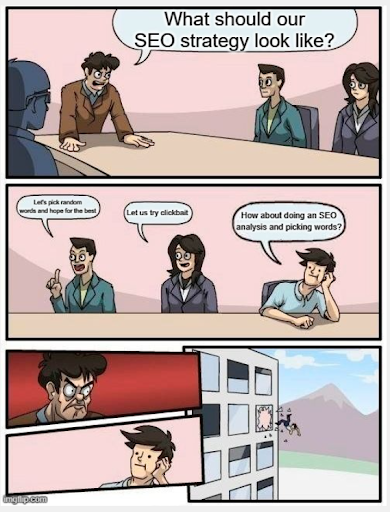 There are five things to remember:
More is not better. Adding 200 different keywords can distract your audience and Rakesh says that Google notices it too. As a founder, your gut feeling may be relevant in a lot of business areas, but SEO isn't one of them. Google has an SEO starter

pack

with a list of guidelines that can help you.

Stick to 20 or 25 keywords:

Using Ahrefs or Semrush, shortlist the keywords that have the highest volumes. But don't go overboard and finalize 400 keywords. It won't work. You should filter out the top of the funnel and the bottom of the funnel keywords.

Link and merge:

When you are building your content bank, look for similar-looking words and merge content wherever possible. You can also build trustworthiness for your articles by adding relevant internal links. A high number of articles doesn't lead to better SEO outcomes.

CPC is better than volumes:

The cost-per-click metric is important to find out how much a competitor is willing to pay for Google keywords. CPC offers good returns because you are only paying for customers who are interested in your product.

Keyword Golden Ratio:

KGR involves looking for underserved keywords and plugging them into your content. For example, instead of using a generic keyword such as SaaS, you can go into specific keywords such as HRM SaaS and HRMS SaaS. 
Finding the SEO entity
An SEO entity is what will pull Google users to your website. An entity is something that is singular, unique, and well-defined. If you look for "Apple" on Google, it will always recommend the company website. If you search "banana", Google assumes you are looking for the fruit's nutritional value. Again, this is not a random pattern, but an algorithm developed after analyzing millions of search results and click patterns. 
Say you type "recurring business software". A related Wikipedia page on "subscription business model" can be a good reference point to look for relevant keywords. Your aim should be to achieve an entity-level SEO. It is something similar to Salesforce being synonymous with SaaS. Type 'SaaS product' on Google and Salesforce will always be the first result.
The search engine will crawl better if schema markup is added to your website. Think of it as tags that inform Google what your website content wants to convey. 
Planning the content calendar 
Developing a well-structured content calendar is key to ranking higher on Google. Now the strategy can vary depending on how old your business is. 
If your SaaS is at the sandbox stage, meaning under six months old, about three articles a week should suffice. Typically, businesses older than six months should post between 20 and 40 articles a month. Here, tools such as Surfer SEO can offer the minutest details, including what GIFs to use, how many words to write, and where to break paragraphs.  
As added support, use tools such as Nextjs and LabsMedia to improve your page load speed. In the world of SEO, every second is valuable. This is especially important if your website has a high bounce rate, something that Google monitors very closely. 
The initial idea is to plan, create a valuable content bank, and build velocity. The game is not over, it never is. You have to keep re-optimizing the content so that Google knows that your articles are updated and relevant. 
Predictability is an asset for Google, which means content that has a regular publishing schedule (date and time) draws more traffic. You can also tweak the publishing time using VPNs to match the local time zones of your target markets. 
A lot of this involves a series of trials and errors. That is the reason outsourcing the entire content inventory may be a bad idea. You can outsource a few content pieces but create important high-quality content in-house. 
Eventually, SEO is all about patience. There is no other option but to work towards attracting traffic. However, remember to strike the right balance. Don't over-optimize or under-optimize.