We're back in the Bay Area with our second edition, and this time the 7-day trip will be even more tactical. How is 'tactical' even an advertisement you may ask; and the answer is simple. The world is full of stories of glory and get-rich hacks. All good ideas go to die in the battlefield of tactics and that is exactly where the Caravan comes in.
It's not an event; or a function; it is also not a marketing platform. SaaSBoomi is a community; we share common attributes, passions, and goals. We stand by each other and care for each other. We give each other a helping hand.
The US arm of that community brings together the diaspora and the founders from India. Most of the big SaaS companies coming out of India succeed in the US-India corridor. So the idea of the Caravan is to bridge the journey of Indian founders into the US and help establish them in the US market. I penned my own story last year; please do give it a read [Read: Your journey into the US market starts here]. 
The focus at the Caravan is very different from other startup events. Here we have a very low emphasis on panel discussions, hero speeches, and all of that. We zero in on tactical execution. 
People don't want the 10 slides on how to become a unicorn. Because no 10 slides can capture how to become a unicorn. They want to understand the hand-to-hand combat tools and techniques they can get today in order to win at product marketing, sales, partnerships, and raising money; those minute little details that separate the winners from the rest. 
It's a different philosophy, different operating mechanism, and different end goal from 'events' per se. 
What's New
At the risk of repetition, this time it's going to be even more tactical. We have done away with panels and speeches. The absolute focus now is on brass tack tactics. 
We'll have five full days of workshops after the first evening's dinner. Only on the seventh day at the summit, we have about two hours of talks. Some mainstage stories still need to be told we reckon. Everything else is workshop style.
Every session is 2-3 hours long, with homework, worksheets, and hands-on practicality. Stuff like, 'Let's talk about how to negotiate real-time into a deal.' This is a lesson from the first edition where we observed what founders appreciated the most were the detailed workshops.
The second thing we're changing is opening up US Caravan 2023 to everybody who is involved with building the SaaS ecosystem. 
We're doing something ambitious called Industry Connect. The name is not yet decided, but the idea is to connect startup founders with enterprise CXOs. So we usually teach you to fish; but in this case, we are actually bringing you to the pond itself. For the first time, we're putting actual economic buyers in front of the US Caravan founders.
It will be a two-sided match like in our VC Connect program. We're aiming to get 50 enterprise executives from the diaspora. Join us if you want to be part of the movement and can help these startups gain a toehold in the US market.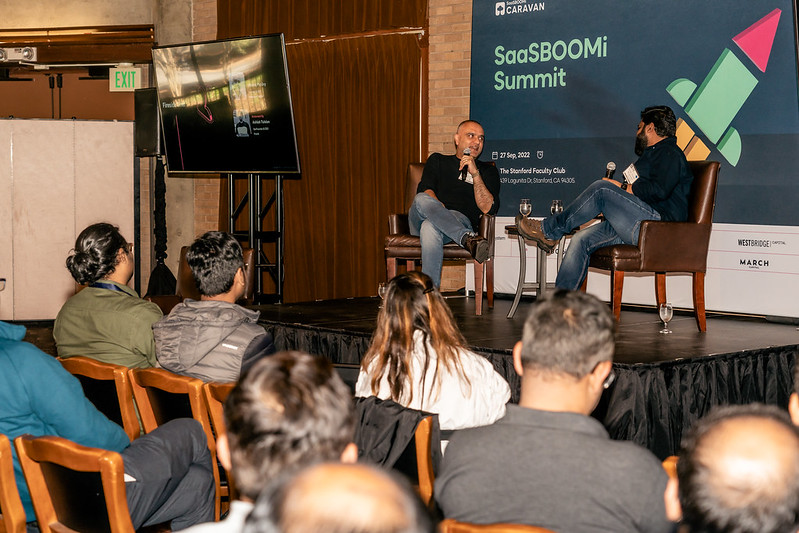 US GTM Focus
SaaSBoomi does a lot of programs related to company-building. That's not the focus at SaaSBoomi's US Caravan. Here we get real US specific – moving to the US, brand-building for the US, connecting with US buyers and partners, connecting with US corp dev, connecting with US investors. In short, all the things you can only do sitting in the US. 
We've greatly leveraged Indians who've come here, settled down, and made it in some way. All of them – be it founders, investors, or tech execs – have shown a willingness to come and participate in the community. They're willing to commit their time and effort.
Just the other day I WhatsApped the CTO of a very large US brand, who's Indian, inviting him to be involved in the community. And he said, "I'd love to." Instantly, no questions asked. 
Then I spoke to two people who are not Indian about the community, asking them to join us. And they said they would love to come. For them, it's encouraging entrepreneurship. Everyone relates to the cause.
Everyone believes India's moment has arrived in terms of being a product nation and wants to be a part of it. They're willing to contribute towards a greater goal without putting a premium on 'What do I get out of it?' That's pretty unique.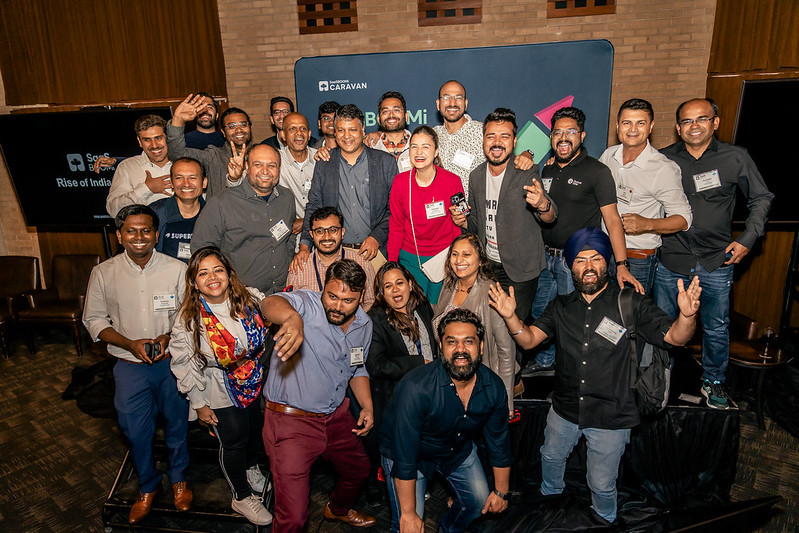 Flywheel of Connections
SaaSBoomi programs are going on 24/7/365. Roundtable playbooks, socials, SGx… Be it the venture debt initiative, be it the mental health initiative, something's always happening. It's an always-on engagement for founders, not a once-a-year event. 
So if you see the WhatsApp group from the 2022 Caravan, people go from strategic stuff to 'I received a lawsuit' to how do you hire, or 'I'm negotiating the final stages of a deal. What do you think?'
All the people who came together at the US Caravan last year, and spent two weeks here in the Bay Area, are still best friends today. And the first phone call for any founder who has a tactical, strategic, business, or emotional issue, is to a peer and a friend.
I realized this from the community's Product Nation camp near Bangalore, which I attended back in 2016. From then to now, all my best startup founder friends are from that cohort. So there is immense value in that which should not be underestimated. 
Take, for example, Rakesh Patel, who came as an attendee to the last Caravan. He was helping someone out with website optimization. Two other people got interested in what he was saying. Before you knew it, 10 people were sitting around listening to him. 
More and more people started asking him for help. Six months later, he was a speaker at SaaSBoomi Annual. Close to 40 startups have consulted him formally in the past year. Pay it forward; Saasboomi style.
Fill Your US Calendar
So the greatest session at US Caravan 2022 was the session that never happened, which is all the time people spent together. [Read a diary of SaaSBoomi Caravan in Silicon Valley]
Someone asked me on Day One, "Why 11 days? You know how expensive it is to be here." I mulled over this, for I had been in exactly that position not too long ago and replied, "If you want to build a US business, you have to find ways to fill the 11 days in your US calendar."
Two weeks ago, a founder who attended the last Caravan came into my office when we had a meetup of 20 founders, and he said, "I remember your line from last time. Now I get it. Now my calendar is full. I worked hard at making it happen." 
If you believe the US is your market and this is where you need to sell and grow, and you're sitting in the US with an empty calendar, there's a problem.

There's a go-to-market problem for you. There's a connection problem. There's a network problem. You need to fix it. 
The solution is not for you to go back to India saying, 'OK, at least there my calendar is full.' You're not going to build your $100 million US business there, right? (Maybe a certain 'G' might disagree 😉 )  So even the small things, the bonding in the community, the fact that you're here for a week or more, everything adds up to making that program a success.
As we look forward to hosting this year's Caravan with two of the most incredible partners (may I say co-founders?) in Priya Ramachandran and Avinash Harsh; we are filled with hope and excitement. We look forward to seeing founders, execs, investors and all ecosystem enablers come together to make this Caravan a true watershed moment in India SaaS's unstoppable march globally. 
Want to be at the Caravan '23? Click here to apply.