After a long lull due to the pandemic, we at SaaSBoomi hosted an in-person meeting in Bangalore on February 24, 2022. I was just four days old at SaaSBoomi Foundation, and I wondered how many people would get the opportunity to help host such a big event in their very first week of work.
The event was a successful one and all the stakeholders were happy to connect physically after a while. I was glad to have been a part of the event, interact with founders/co-founders, and learn about the SaaS product(s) they were building. The insights I got about the Indian SaaS landscape were immense.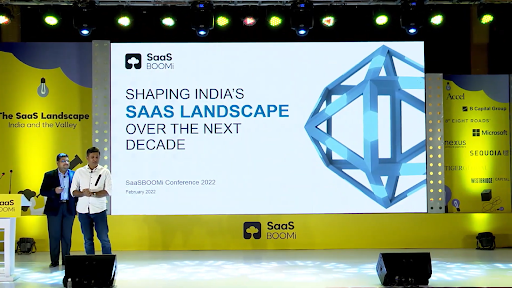 Here are some of those insights which would interest you as well.
SaaS is globally the largest value-creation opportunity within the DMT and the Telecom space. While it contributes to only 30-35% of revenues, it accounts for 50% of value creation, which is actually higher than our Information Technology services cohort.

By 2030, the SaaS ecosystem is capable of creating trillion-dollar value and half a million jobs in the process. This rivals what the tech service achieved in around 30 years but SaaS would do it in 10 to 15 years.

Four billion dollars is the total venture capitalists' investment in Indian SaaS companies in the last five years. This clearly shows that SaaS products are VC's favorite in recent times.

Higher growth in the SaaS ecosystem is valued relatively more by investors.

Indian pure-play SaaS companies have generated 2.6 billion combined revenue and have employed over 40k people.

Working more on defining and understanding the Product-Market Fit before starting to invest in growth, helps to save equity.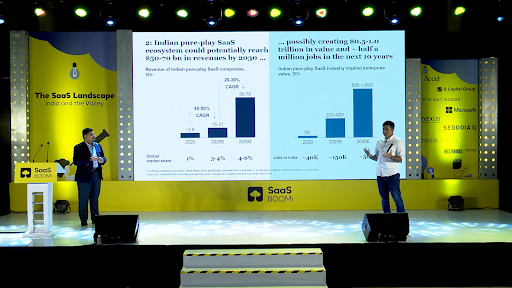 To know more insights about our country's SaaS ecosystem, please do watch the video, "Shaping India's SaaS Landscape" by McKinsey & Company – an enlightening and informative session hosted by Mr. Kushagra Gupta, Associate Partner at McKinsey, and Mr. Manav Garg, CEO at Eka and co-founder of SaaSBoomi.

Watch the complete event video here!