I'm writing this piece from a beautiful café in Bhopal, amidst lush greenery, butterflies, and chirping sounds of birds. This café is very special as all the stuff here is organic, with the farm right next to it. It's always a pleasure to receive hospitality in an emerging city. You get to meet interesting people and you also realize how life moves at its own pace in these places… slow and steady.
I'm here to be part of SaaSBoomi Social, and I'll also be traveling to other upcoming SaaS cities like Indore, and Surat over the next few days for the same.
While I get to meet with a lot of founders at events, it's hard to make meaningful connections and conversations, as there are so many of them. And after a long time, I'm traveling to emerging cities, meeting founders there, having conversations with them about their business, and understanding them better.
Here's a chronicle of my journey and the interesting founders I met in these three cities.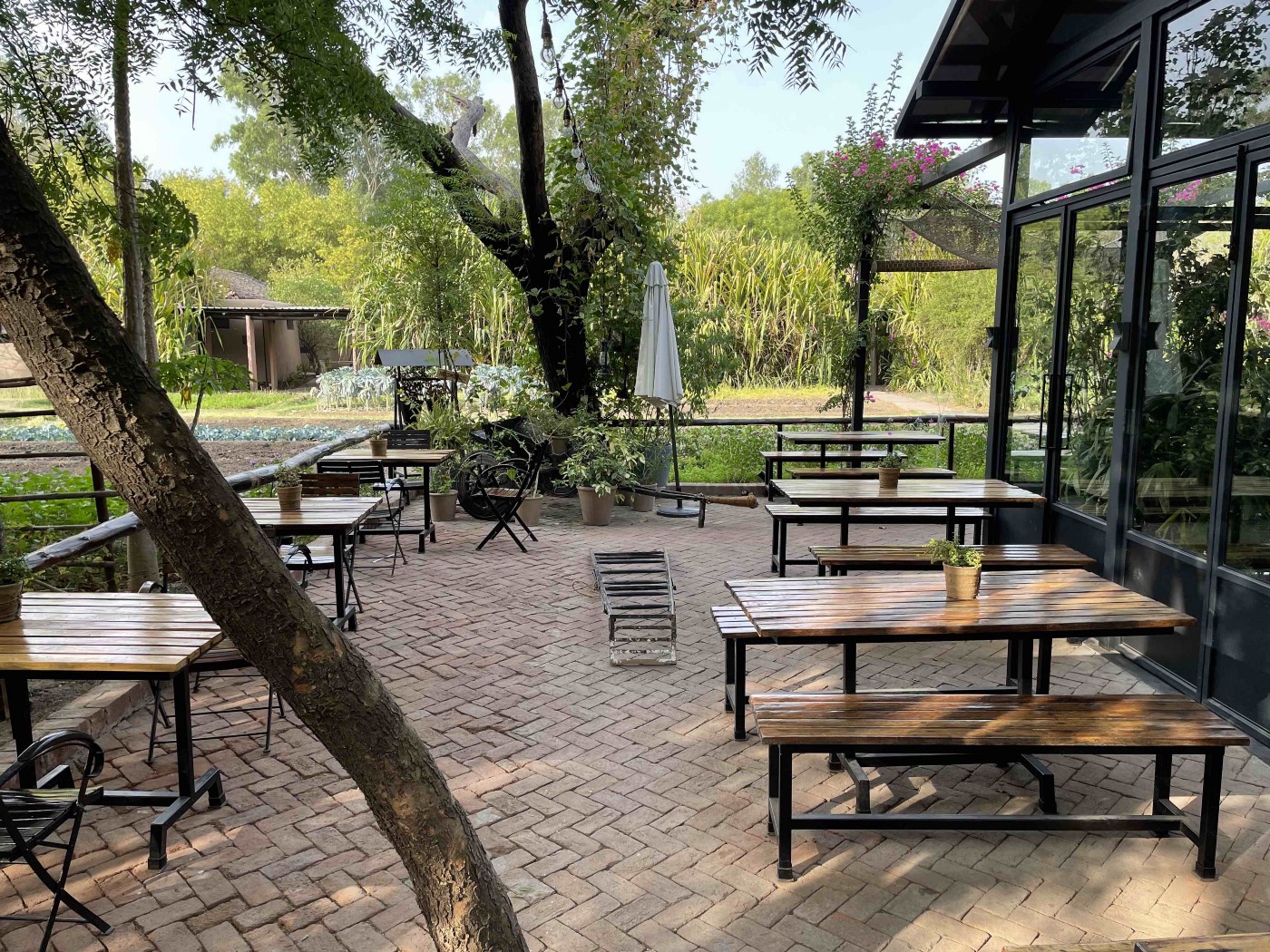 Bhopal (17–18th May '22)
Every city has a host for SaaSBoomi Social and the host for Bhopal is Nemesh from Appointy, one of the most successful bootstrapped companies in the city.
Nemesh founded Appointy in 2008 as a web services company and now he is helping entrepreneurs in Bhopal to learn from his mistakes by sharing his learnings. The government of Bhopal is very supportive of the startup ecosystem as well, and there are commendable initiatives being done to help the startups.
Appointy has also developed a low-code SaaS development platform that can be used to build, deploy, and scale complex SaaS applications. In a short while, I will be getting to see the 4-acre campus that they are setting up — he seems excited about this latest project that he has been leading for some time now. His co-founder Sarang has been a big support in his journey.
Thanks to Nemesh, I got to meet some really interesting founders and what they have been up to. Some of them are disrupting big startups from here. So let me start by giving a brief about each company:
I will be heading to Indore today in the afternoon and Nemesh will be driving there.
Indore (18–19th May '22)
We drove down from Bhopal to Indore next. It took us almost three hours, during which I got to hear some interesting stories from Nemesh on how he has been building Appointy for the last 12+ years. Hopefully, I will get to write another GritStory about Appointy.
So, my host for Indore is Mayank Pratap Singh and Aditi Charausia, co-founders of EngineerBabu and SuperSourcing. Mayank is an amazing community builder, and I loved the hustle and the energy that he demonstrates. He is never on time 🙂 but makes up for it with fascinating stories and multi-tasking.
The first dinner meeting was with a group of scaled founders, who shared inspiring stories on what it took to build their startup from Indore. Since most of the information shared was confidential, I won't be able to share much of it here. The founders who have built those brilliant companies are:
Tanu Tejas — Founder of ShopKirana. They are Empowering Retailers with the power of technology and brands. He shared his story and did a Q&A for around eight mins with the Prime Minister of India.
Rohit Gadia — Founder of OneHash SaaS, previously built a 1500-person company CapitalVia. He shared some brilliant stories about building CapitalVia.
Manish Dabkare — Enking, Carbon Credit company. They are India's first public limited company and an ISO 9001:2008 certified organisation, that works in the field of energy, carbon, and quality management.
Nemesh Singh — Appointy (covered above)
Mayank and Aditi — Founders of Supersourcing. It is a B2B platform for hiring remote engineers at scale, that is trusted by 4000+ startups.
The next morning, Mayank picked me up and took me to a place called Chappan Dukaan — (56 shops). It's an incredible food joint with great food from Indore, where I got to know that 90% of the folks from Indore have Poha.
They are planning to make Indore a 24/7 city and it seems like the government is very proactive and is playing an active role in shaping the startup culture. I missed going to the market which is open at night, and I learned that it was set up to ensure that the shops actually sell gold and this was one way to provide them security doing night.
I got to meet around 18–20 startups who came to meet me. The event was at Social and completely organized by Aditi and supported by Mayank. I shared a few insights about entrepreneurship and my background. Each startup then shared what they are building, where they can help and where they are looking for help.
The best part was that there were many women founders who joined the meet-up. I also got to meet Pushpendra from Msg91, again a hidden bootstrapped startup from Indore. I will soon bring out their story. It seems like he has been hiding for a long time.
Later, Mayank and Aditi hosted me and Gaurav from Bingage, and we also managed to get some time to drop by a beautiful cafe called Mitthi which had been set up by Pushpendra from MSG91. After some wonderful chai and a return gift, Gaurav and I left for the railway station to go to my next destination, Surat. I hope to reach around 2:30 am in the morning and looking forward to seeing some fantastic founders out there. This is been written from the train and now the Airtel network seems to be quite stable from Indore to Surat.
Surat (20–21st May '22)
We reached Surat around 2:30 am and managed to get some sleep as the next day was going to be hectic. It also started with a delicious breakfast hosted by Kalpesh and Ankit from Suvit. They showed me around the city, and bragged about Surat being #2 in cleanliness and that it is also called the city of bridges — something that I actually got to experience. The food in Surat is probably the best in the country and one must make sure to have it in their lifetime.
I reached the office where Vishal from Dhiwise was eager to host me and he had lined up meetings with startups from 11 am to 5:30 pm, with just a 30-minute break in between.
Apart from hosting this event in Surat, Vishal has been playing the role of bringing more and more startups to the SaaSBOOMi community and making sure we start initiating a few sessions and playbooks in Surat. Vishal is also clearly the most respected leader and founder in the Surat ecosystem.
Ritesh Arora of BrowserStack also hails from Surat and the other company which came out of Ahmedabad was Hubilo which is in the event management space. Naman of Refrens, also one of the most thoughtful product people, is based out of Surat and is now building his next startup from Surat.
Some of the founders that I met in Surat are:
Kalpesh and Ankit — Founders of Suvit, a Zapier for accounting businesses. It has only been a few months since they started up and they already have 400 customers and around 18K subscriptions. It seems like they are creating a category here with a first-class tech product.
Alpesh — Founder of UBSapp. He is building a suite of products that can be used by small businesses.
Krunal — Founder of WiserNotify, a platform that helps in building social proof and FOMO notifications.
Vinay and Puresh — Founders of UpMetrics, a platform that helps you to build a business plan for a new business. They have 5K paid users and 1700 active users on their platform.
Dinesh Agarwal — Founder of RecurrPost.com, a Buffer++ tool that allows you to do many more things to schedule and manage your social media accounts. He came to the event in shorts and was the typical founder in Bangalore and had some exciting stories to share about his growth hacks and how he ended in trouble with Facebook multiple times.
Gaurav Nagani — Founder of DeskU.io, a helpdesk software for SMBs.
Manoj Advani — Founder of BizSomia, a social commerce tool for B2B and for the Indian market.
Puneet Ganjera — Founder of Visitorz.io, a touchless visitor management system.
Nirav Alagiya — Founder of PhotoAdKing. This is a tool like Canva which allows you to build any kind of tool. I also got to know about BrandSpot365 which is from Ahmedabad and allows you to build WhatsApp images and are apparently growing very fast. They have 18K customers and are largely built for the Indian market.
Arjun — Founder of VideoSDK. Here is probably one of the best techies in Surat and has built an amazing product that has gained some good traction. They are offering cloud infra for live audio/video communications. Using their tool, you can even build a product like Zoom.
Vishal Virani — Founder of Dhiwise, who was also the host for my trip. He had started Coruscate solutions, and now at Dhiwise, they are building a developer tool that allows you to build enterprise apps. Vishal has also been able to create an entrepreneurial culture at Corusscate where 4 to 5 startups have come up in the last few years.
I did get to meet around 30–35 founder/startups in the evening where they talked about their products. One of them that stood out was Stitchmax which has built software for embroidery and has also one competition globally.
RoyalPOS is POS software with 800 customers globally. In the logistics space, I met a very interesting company and they apparently are doing some amazing work with 15 customers and their solution integrates with companies like Fareye, etc. Some amazing conversations and we had close to 80–100 people who came for the SaaSBoomi social.
In the morning, I had Shreya & Nischit from Firecamp who came to drop me at the airport and they talked about their product to me. It was in the API space and something better than what Postman is building. I didn't understand much, but with their passion and energy, I knew they were onto something big.
That was almost the end of the trip, had amazing fun, got to learn a lot about what startups are up to, and also loved their sheer passion for building something. Just reassures us that we are on our way to building some awesome global products from India and young India is all about entrepreneurship. Here are some learnings and insights from my trip.
If you are someone, who enjoyed reading the above and wants to contribute towards the emerging eco-system like Surat, Indore, or Bhopal, do ping me. If you want to be connected with one of the entrepreneurs, please ping me and I shall connect.
If you are a VC, you can always make a trip to one of these cities and help do a workshop on VC101…..there is a lot to be shared with the audience.
Thank you all who help in putting the above trip together.
Some learnings and observations from the trip 🙂
A mentor network is missing and an entrepreneur who crosses a certain threshold is unable to get the right set of advice.
Most of the companies are bootstrapped and there is an opportunity for someone to enable peer learning amongst founders.
Most of the companies started as IT services companies and then saw an opportunity to pivot into a product company…which is very impressive. I met 50+ companies and 80% started as services companies.
While few founders have been able to build global businesses, most of them still focus on building products for the India SMB market….it again becomes a challenge on going global.
Thinking Big is not so much in the DNA….most of them are ok to build a lifestyle company and no harm in that.
The good talent in most of the cities is also trying to move out to other metros as they see a bigger opportunity and a better cultural lifestyle for youngsters.
Many founders who have their origins from these emerging cities should contribute their time and efforts towards building the city eco-system
Awareness around VC funding, Growth mindset seems to be a bit of a challenge.
While the govt. Is very supportive of policies, they should also be playing the role of market creation for companies that are building for Bharat.
Indore & Surat have an amazing entrepreneurial culture and I feel Surat probably is the next emerging city and will emerge as a SaaS leader in the emerging cities space.
All founders seem to be very well bonded, they are there for each other and often help when required.
The tech skills in these cities are amazing, however, they do lack, Product, Design, and Sales mindset.
The good part about these startups is they understand how business functions and also know how to build a profitable business….they come from the Dhanda mindset and don't really believe in splurging money.
eChai seems to be doing an amazing job of connecting all founders in these cities.
A special thanks to my colleague Sadhana Balaji for editing this 🙂