Three men walk into a bar.
The barman tells them, "If you can give me an idea that can drastically improve the odds of new breweries succeeding in India, I'll give you free beer forever."
The first man said, "Brewing chops is getting better in India, but most breweries are still struggling to land their first 10 customers by virtue of the beer. This is the pain point that, if solved, can bring a big change in the ecosystem — the beer itself can serve as a distribution channel."
The second man thought about it, agreed with the first man's idea, raised his hand for a refill of beer and said, "Well, we need to enable breweries to transform their thought process about growth. How about a way to enter a small settlement via an individual customer where the beer does a great job of impressing the individual but it doesn't stop there. It enables that person to get more friends from the town to adopt the beer. If this type of beer sales thinking is made possible by breweries, we have a win."
After a moment's silence, the third man spoke, "I agree with both these fellas. So let me build on top of what's already said. I think we need to help breweries and their owners make beer that sells itself. Beer experiences that speak for itself."
They said in unison, "Beer-Led Growth." And the legend has it that the barman had to agree to provide all three of them free beer forever.
This story is based on real events, just that we need to correct certain nuances. The first, second and third men were Shekhar Kirani, Girish Mathrubootham and Manav Garg respectively and the barman was Avinash Raghava — all of them core members of SaaSBOOMi. The conversation was not about breweries and beer, but about SaaS startups and how to build products that sell themselves. And of course, they didn't meet in a bar. Very predictably, they were on a Zoom call and Avinash says that there's no evidence stating that he offered free beer forever to his colleagues for their advice — this is still in contention.
But what matters is that this is how SaaSBOOMi Product was born as an idea and why we've decided to focus on enabling Indian startups and entrepreneurs to adopt Product-Led Growth as a philosophy.
Introducing SaaSBOOMi Product
SaaSBOOMi Product is an initiative to help SaaS startups from India develop product-first thinking, to help them build good quality software products that solve problems for their customers from around the world. As Shekhar put it well, we have seen very successful products come out of the Indian SaaS stable, but it's important to acknowledge that they still remain the exception and not the norm. The key to the problem, we speculate, could be the dependence Indian entrepreneurs have on sales and customer acquisition processes with many human touch-points. This incentivises the startup to move away from a product-centric way of building a business, towards a philosophy of throwing human resources at most problems. While it worked well for the IT and BPO sectors that have contributed immensely to the country's GDP in the past three decades, we feel the SaaS businesses today need an orientation that helps them put the product (or software) at the centre.
This would require the entire journey, market research -> building the minimum viable (or loveable) product -> acquiring your 10 early adopters -> getting your 1000 true fans, to be re-designed. It calls for the ability to identify customer pain points from the early days in the journey, iteratively build well-thought-out self-serving product experiences and consistently learn how your customers are adopting them. This would be philosophically opposite to the cognitively easier (but not scalable) means of building bespoke and tailor-made solutions for customers who want them.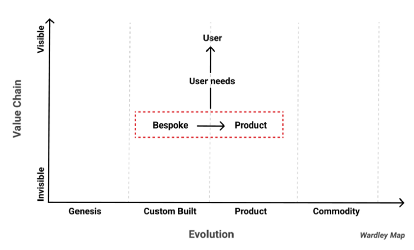 As part of SaaSBOOMi Product, we will be launching numerous initiatives to inculcate and encourage product-centric thinking among SaaS startups in India. We understand and acknowledge that this is going to be hard and will take years of effort. But we believe this is the way to the future and we are motivated to commit our time to this powerful cause. Now let's discuss the first initiative coming out of the Product track. 
Product-Led Growth Series
Product-Led Growth (PLG), in a line, can be termed as the philosophy of building a product that sells itself. PLG is being widely adopted by SaaS companies around the world to build and sell products in a manner that the product itself enables the customer to make substantial progress in the user journey and helps the customer make a buying decision without too many human touch-points.
Our objective with the SaaSBOOMi PLG Series is to introduce PLG to the Indian SaaS ecosystem, provide a platform for founders, product and growth practitioners from Indian SaaS startups to understand how PLG can be transformational for growth, and learn how to adopt and implement PLG by listening to the experts in the Industry.
We believe Indian SaaS startups can benefit tremendously from implementing PLG as a core product-growth strategy. It can lead to reduced cost in functions like support and sales (reduced human touch-points) while providing a superior experience for the users around the world. However, as of today, we have very few PLG practitioners in India. While sales and support pipeline frameworks have got massive adoption among startups here, there are very few companies that are implementing PLG in India. SaaSBOOMi wants to address this gap in the industry by building awareness and helping startups learn how to implement PLG. Here's the team that's organising the Product Led Growth series.
The program would be structured as a series of events where we choose to address how the PLG philosophy can be leveraged by startups categorised by the industries they serve, customer persona they cater to, and the stage and status quo of how they run their business today.
Next steps
We are curating the list of speakers and finalising the agenda for Chapter One of the PLG Series that will be happening on November 28th from 9:30 AM to 1:30 PM IST. The Series would be designed to help Startup founders learn how to:
a. Implement PLG to grow with favorable economics
b. Integrate PLG with different functions of your business at different stages.
c. Build your PLG team and how to do goal-setting for PLG efforts.
d. Leverage PLG and the concept of product qualified leads to accelerate your sales performance.
If you think this initiative could benefit you, please apply here.