"Corporate culture is the only sustainable competitive advantage that is completely within the control of the entrepreneur."

~ David Cummings, Co-Founder, Pardot
It was the 1960s in New York City.
Fairchild Camera and Instrument Corporation, like all big businesses in the country, did business the East Coast way. The owner lived in a glass-and-marble Manhattan townhouse. The top executives had cars, drivers, and dedicated parking spaces. It was a feudal organizational culture – complete with kings, lords, soldiers, and commoners.
Bob Noyce, the co-founder of Fairchild Semiconductor (a unit of Fairchild Camera) didn't buy into any of that, since he knew that it was the engineers—the commoners—who in fact drove the business.
Fairchild Semiconductor turned the conventional culture on its head.
All employees were expected to be at work by 8 am, and the best parking spaces went to those who got in first. Nobody wore a suit. No professional managers were hired for gatekeeping; everyone was in charge and everyone had the liberty to pitch and pursue their ideas.
"Coaching, and not direction, is the first quality of leadership now. Get the barriers out of the way to let people do the things they do well."

~ Bob Noyce
In 1968, Noyce left Fairchild Semiconductors and founded Intel with Gordon Moore and Andy Grove. And at Intel, Noyce's egalitarian plans reached a new level.

Everyone worked in a single big room with partitions, where Noyce himself used a secondhand metal desk. Deli sandwiches and soda was lunch. There were no vice presidents; the founders directly oversaw middle managers who ran business segments.

In meetings, while the leader set the agenda, everyone else was equal. Noyce gave almost all employees substantial stock options – he believed that engineers would build winning products and act more like the owners, if they actually owned the company.

Everyone, including Noyce, was expected to attend the 'Intel Culture' sessions, where Andy Grove (their future CEO) would drill the culture into new employees.

The Intel culture promoted the individual, encouraged failures, and allowed breakthrough ideas to prosper. This brought about a better way to do business, compared to the then-common culture in the east, where employees strived to maintain the status quo and avoid failure at all costs.

Noyce's employees who later stepped out and started their own companies, adopted the same culture of independence there as well. In no time, without even intending to, Bob Noyce had shaped the culture of Silicon Valley, and in turn, of the tech industry as a whole.
"In business, if you have a strong culture but a product nobody wants, you fail. So culture might appear to be weaker than product. But if you look more deeply, over time, culture can overcome the seemingly invincible structural barriers of an era and transform the behaviour of entire industries and social systems. From this broader perspective, culture is the strong force in the universe."

~ Ben Horowitz, venture capitalist and co-founder of Andreessen Horowitz
Your company's culture starts with determining what you personally value most, and then enabling everyone else in your team to adopt behaviours that reflect those values. And the closer your company's culture is to your personal traits, virtues, and sensibilities, the more sustainable would it be. Because people follow their leader and not their so-called culture codes on paper.
In his compelling book on building a strong business culture, Horowitz points out that the fundamental question a founder needs to answer, in order to create their company's culture is: "Who are we?".
"Who you are is not the values you list on the wall," he clarifies, "It's not what you say at an all-hands. It's not your marketing campaign. It's not even what you believe. It's what you do. What you do is who you are."
---
In this month's MRR edition, we have two major updates for you:
From this edition onward, we'll be cherrypicking and curating content from other publications as well, in addition to the ones from SaaSBoomi. So if you come across a phenomenal blog post or podcast episode that blew your mind, please do share it with us, so we can share it with the rest of the community.

SaaSBoomi Annual 2021 is here, and how! It's going to be bigger (not just in Chennai this time), better (with new insightful and immersive content formats), and 100% virtual. And it goes without saying, we'd love for you to join us this April and co-create Asia's most celebrated SaaS conference with us.
Dive in.
~ Sadhana
On behalf of Team SaaSBoomi
---

We are thrilled to finally announce SaaSBOOMi Annual 2021 OnAir, Asia's biggest SaaS conference by founders, for founders.
The mission is to help Indian SaaS founders reimagine their Vision, Strategy, and Execution, create organisations that are "built to last", and emerge stronger in the post-COVID era.
Here's a sneak peek from Avinash Raghava on what you can expect.
---
Latest on the SaaS Stories
---
Latest on the SaaS Podcasts
Starbucks: Howard Schultz [How I Built This with Guy Raz]
Guy Raz connects with Starbuck's Howard Schulz, to listen to Howard's incredible story of growing Starbucks from a small Seattle coffee shop, and how he has cared for his employees along the journey.

Getting Startup Hiring Right: 6 Leaders Tell Us How [The Orbit Shift Podcast]
Jayadevan PK speaks to Cal Henderson, the co-founder of Slack, investor and advisor Elad Gil, Yamini Bhat, the co-founder of Vymo, and a few others, and breaks down what skills to look for in employees and how to recruit and retain them across engineering, product, sales and finance teams.

Matt Whiat and the Insanity of Leadership [Everybody Matters]
Brent Stewart talks to Matt Whiat of the BW Leadership Institute, about his refreshing take on company culture: the importance of truly human leadership to drive a strong culture and organizational success.
---
From the Community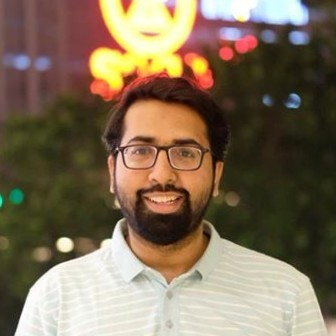 Tayyab, our Website Wizard. He single-handedly led the entire website-revamp project (have you checked out the slick new website yet?) for over a span of 3 months. Tayyab has also volunteered with Make A Difference as an HR Fellow during his college days, where he led the volunteer recruitment and onboarding projects in his city. And he finds striking similarities between his experiences in both organisations.
"Volunteering, no matter where or how you do it, empowers you with critical responsibilities as well as the liberty to shape things yourself. And this subsequently helps you learn to think better, make better decisions, and grow into a better person."