"When people are financially invested, they want a return. When people are emotionally invested, they want to contribute."

~ Simon Sinek, Leaders Eat Last
Case 1.
It was around the time one-stop and affordable convenience stores began growing in popularity when W.T. Grant Company set up department stores across the United States.

By 1970, they had grown to about 1,200 stores with 62,000 employees. And the CEO and executive team wanted to push the growth lever even further. They launched a managerial motivation plan titled the "Steak and Beans" incentive program.

To have every store operate at its highest level of proficiency, the program focused on motivating store managers to meet their credit and sales quotas month on month.

If a store manager failed to meet their quotas, they'd receive a visit from a regional manager, who'd then gather all the store employees and in front of them all, slam a pie in the face of the store manager.

The program also included other measures like chopping the store manager's necktie in half, making them push peanuts with their nose across a table, and even making them run backward around the store.

Not so surprisingly, numerous talented employees quit. The stores deteriorated, service declined, and sales dropped.

The management reacted to the plummeting sales by launching a massive credit drive, and threatening the store managers with further humiliation and firing if they didn't increase store credit applications.

As a result, the petrified managers gave credit to "anybody who breathed," according to a former executive. They granted store credits with little to no attempt at discerning whether a customer had the means to pay back the credit – their rejection rate was a mere 20%, as compared to the 80% industry average in 1974.

It did bring results, though: credit sales grew from 15% to 30% of the total sales volume. It became common consumer knowledge that W.T. Grant was the best place to furnish one's entire home on credit.

On the flip side, uncollectibles increased from 2.1% to 3.2%, with the technology not yet sophisticated enough to track large credit programs across stores. So while many customers happily charged huge credit sums at multiple stores and refused to pay, others were repelled by the fierce pressure to open a credit account and never set foot in the store again.

The company eventually landed in debt of over $200 million in unsecured credit, and eventually shut shop in October 1975. The once-promising business was destroyed by leaders who employed a flawed motivation strategy to get better results.

---
Case 2.
Tony Hsieh, the former founder and CEO of the online shoe retailer Zappos, had a contrasting approach to motivating employees. New employees had to go through a four-week training period that immersed them in the company's culture, strategy, and customer obsession.

And a week or so after this experience, it was time to bring in their policy called "The Offer".

The company would ask its newest employees if they'd like to quit. And that if they did choose to quit, Zappos would pay them for the amount of time they'd worked, plus an additional bonus. The said bonus kept increasing over the years, which started with $100 then went up to $500, $1000, and eventually $2,000.

Zappos bribed its newest employees—whom it worked hard to recruit and train—to quit. And this way, it was able to retain employees who were committed to and passionate about their work.

"We want to make sure that employees aren't here just for paychecks and truly believe this is the right place for them… I want employees to operate in the intersection between what they're passionate about and what's going to help move the company forward. And from the overall company's perspective, I want to add more innovation and productivity as we add more employees."

~ Tony Hsieh
In 2009, Tony sold Zappos to Amazon for $1.2 billion, after which Amazon adopted the same policy. Dubbed "Pay to Quit", the company offered its full-time fulfillment center workers anywhere up to $5,000 to leave. By allowing dissatisfied employees an opportunity to leave, the company was able to subsequently improve workplace morale and motivation.
"The goal is to encourage folks to take a moment and think about what they really want. In the long-run, an employee staying somewhere they don't want to be isn't healthy for the employee or the company."

~ Jeff Bezos, CEO of Amazon, in his 2014 letter to shareholders.
---
Both Zappos and W.T. Grant Company put their own spin on employee motivation strategies. One made the company thrive, the other caused its downfall. The key difference between them is while the former centred around intrinsic motivation, the latter focussed on extrinsic motivation.

Behavioral psychologist Frederick Herzberg divided workplace motivation into these two categories and discovered that what's inside matters more than what's outside.

Daniel Pink succinctly summarises this in his book Drive.
"The [conventional motivation system] depended on, and fostered, what I call Type X behavior. Type X behavior is fueled more by extrinsic desires than intrinsic ones. It concerns itself less with the inherent satisfaction of an activity and more with the external rewards to which that activity leads.

The upgrade that's needed to meet the new realities of how we organize, think about, and do what we do—depends on what I call Type I behavior. Type I behavior is fueled more by intrinsic desires than extrinsic ones. It concerns itself less with the external rewards to which an activity leads and more with the inherent satisfaction of the activity itself."

Organisations often tend to rely heavily on extrinsic motivators like performance bonuses, promotions, foreign trips, or, like in the above case, public humiliation. This is evidenced by the widespread dependence on traditional performance appraisals and ratings.

While these are important and even necessary, relying solely on external motivators will only get employees to hit the required goal and go no further. Intrinsic motivators like meaningful growth opportunities, autonomy, and a strong sense of purpose, on the other hand, can drive employees to go above and beyond the call of duty.
"Ultimately, Type I behavior depends on three nutrients: autonomy, mastery, and purpose. Type I behavior is self-directed. It is devoted to becoming better and better at something that matters. And it connects that quest for excellence to a larger purpose.

The science confirms that this sort of behavior is essential to being human—and that now, in a rapidly changing economy, it is also critical for professional, personal, and organizational success of any kind.

So we have a choice. We can cling to a view of human motivation that is grounded more in old habits than in modern science. Or we can listen to the research, drag our business and personal practices into the twenty-first century, and craft a new operating system to help ourselves, our companies, and our world work a little better.

It won't be easy. It won't happen overnight. So let's get started."
On that note, let's dive into this month's cherry-picked list of content, for you to savour.
Sadhana, on behalf of Team SaaSBoomi
Sydney, Australia
---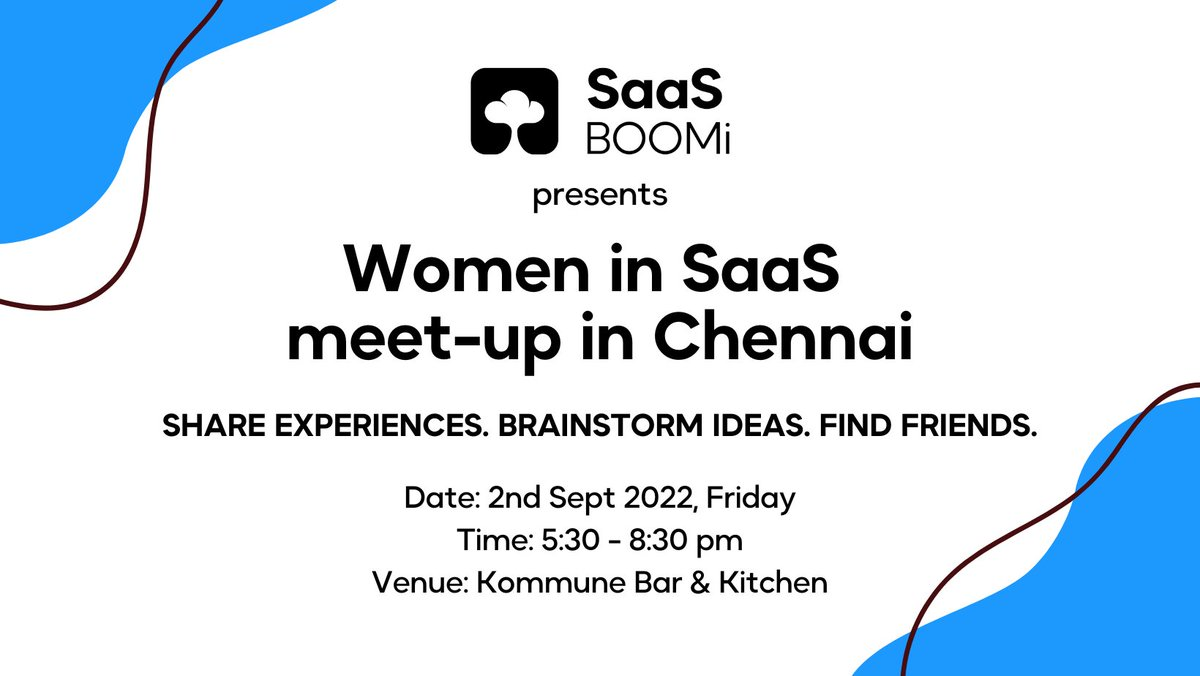 Presenting our very first Women in SaaS meetup, a precursor to many exclusive initiatives aimed at closing the gender gap in India SaaS.
Sign up below to get in at ground zero of this initiative with 50+ women from SaaS companies in Chennai. Meet like-minded women, share experiences, and brainstorm ideas to grow this community.
---
Latest on the SaaS Stories
---
Latest on the SaaS Podcasts