When retail tech startup Mason started out in 2020, several companies were already helping brands build online stores, seeing the success of Shopify as a D2C (direct-to-consumer) alternative to marketplaces. This brought a tsunami of brands online. So the problem Mason wanted to solve was to help brands stand out and grow faster on their chosen platform or channel.
But where to start?
"Our first question was, 'Where can we launch so that we get the quickest number of customers without having to spend a lot?" says Kausambi Manjita, co-founder of Mason, based in Bangalore and the Bay Area.
That led to Mason's key strategic decision to ride on Shopify as a plugin. "It gave us a lot of information, data, and connections from Day One." Later its product was integrated with other platforms as well.
In an economic environment where burn rates are under scrutiny and sustainable growth is the mantra, Mason's frugal but effective GTM playbook is worth diving into. 
Less than a year ago, it had a $7.5 million seed round of funding led by Accel and Ideaspring Capital. And today, within three years of inception, it has more than 1000 brands as paying customers. 
The North Star growth metric for Manjita is the GMV (gross merchandise value) that flows through the Mason platform. That figure crossed $1 billion recently. And since Mason takes a cut from the sales it fuels, revenue has also grown in step with GMV. 
Its commission is a tiny fraction of what marketplaces like Amazon charge sellers, but as the platform matures, that percentage can increase to boost revenue along with signing on more merchants. 
"It's been a very exciting period of growth over the last nine months after we started monetizing," says Manjita. "And the reason we look at GMV is because in the end it's not about the number of merchants, it's about how much each customer is growing in their sales. Tracking GMV keeps us true to our goal."
But let's back up now and go deeper into what got Mason here. 
#1 Finding the right problem to solve
Manjita's tryst with e-commerce stretches from working with IBM Commerce in Atlanta to product management for Paytm and Myntra in India. It was in Myntra that the startup bug bit her.
The fashion e-commerce marketplace was trying to bring online shopping closer to the offline experience. For example, how do you replicate the hook of window-shopping in browsing? "My charter was to bring those constructs online – kind of like taking retail back to its roots," says Manjita.
That's where she met her co-founder Barada Sahu, a hardcore technologist who sold his earlier mobile PaaS startup Native5 to Myntra which got acquired by Flipkart before Walmart took over. They worked closely on Myntra's storefront architecture. 
Enticed by the call of the zero-to-one product journey, both of them decided to move out of Myntra to take their learnings on selling online to brands. 
By then, a variety of online store builders had popped up. But merchants were struggling to make the best use of them. Even on Shopify, it was hard to navigate through a plethora of features. 
Besides, the merchants just didn't have the e-commerce savvy to hook customers and retain them, use data to tweak pricing, run campaigns, optimize inventory and delivery, and so on.
"When we entered, the big underlying problem in retail was – 'I have been able to set up my online store. But I don't know how to get more sales there.' So we latched on to that need," says Manjita. "We became a shopping engine for online stores, and that became our fundamental positioning."
They had built shopping engines for large marketplaces, but now they had to think of products that would not require a bevy of techies to configure because their customers were the sellers. Low-code and self-serve became a buzz during the pandemic year of 2020 which accelerated the adoption of tech, but that design template had already been baked into Mason, even if they did not use the low-code no-code jargon. 
"Why do you always need developers or designers or whoever else to actually use products, right? For me it's always about how do you simplify products to make them accessible to the user," says Manjita.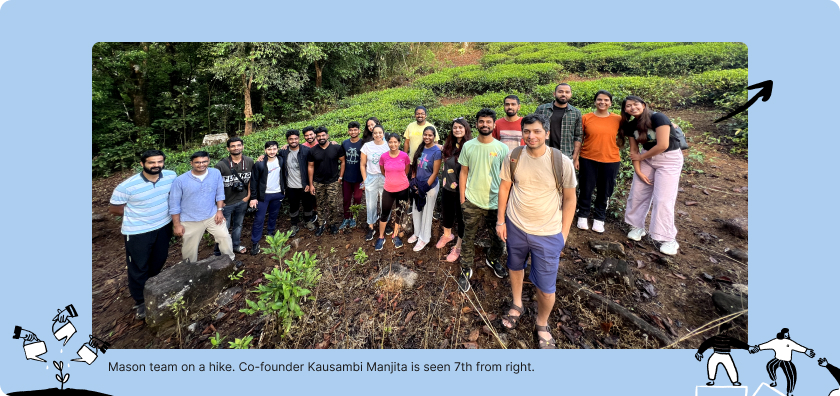 #2 Where to fish for customers without burning cash 
More than its positioning and design thinking, GTM (go to market) for Mason's "shopping copilot" was the worry for the fledgling startup. Brands wanting to sell directly to consumers online spanned a wide range and early adopters were in the US. That's why the startup decided to launch its product as a plugin on Shopify which had gained traction as an online store builder. 
Other platforms like Wix were also attractive, but Shopify's sheer number of merchants tipped the scale. "More importantly, Shopify had a large number of growing merchants whose pain of accelerating sales was pertinent to us. Wix had a lot of early-stage merchants who could disappear overnight," says Manjita.
Over time, it plugged into other platforms and added more products like a content toolbox for online stores, but that first decision to plug into the Shopify ecosystem with its ModeMagic product was a quick starter. Within months, Mason could show customers how much their conversions and sales increased. Typically, the average order value increased by 23% in a month and sell-through by 35% in two months, according to Manjita.
Now ModeMagic integrates with any platform, channel, or marketplace that brands want to use. That was a hard lesson learned at Myntra where a move to shut off its desktop channel to force consumers to its mobile app had backfired badly.
"Be where your customers are" is a lesson Manjita has taken to heart. At the same time, she understood Myntra's bold move to go app-only, however foolish it appears in hindsight. The mobile app gave more data to understand the customer and provide more personalized experiences.
Similarly, brands can understand their customers better on their own store compared to a marketplace, even if most of their online sales happen on Amazon or some other platform. 
"For us, D2C is just the starting point and we're solving the online store problem for a reason," says Manjita. "A typical scale-up brand has less than 30% of their orders coming from the D2C channel. So you have to be omnichannel, wherever your customers are, right? But that 25-30% D2C gives you the best knowledge about your customer. Nowhere else do you have that relationship.
"So we are helping you, as a brand, do what I learned the hard way, which is to understand your customers deeply. And then you can utilize that learning over time. We do want to help you shop better on whichever channel you are, but it has to start with understanding the customers and that's only possible in your own channel." 
#3 How to listen to customers without bias
While Mason helps brands understand their customers, its own focus too has been on grasping the needs of the brands it serves. Manjita spoke to hundreds of brands in North America to identify the gap that ModeMagic would plug. 
"As technologists, sometimes we have a bias. We ask leading questions to customers in such a way that we get the answer we want. I had to learn how to take out that bias. When we spoke to brands in North America, we didn't have an agenda. We let the customers tell us their needs and formed a hypothesis around it," says Manjita, who loves a book on this subject called The Mom Test by Rob Fitzpatrick. 
"The people I spoke to wanted to be independent brands and they wanted better growth. We wanted to solve for this gap but kept it open-ended. We knew the end vision, but the path to that vision, let the customer tell us, right?"
Listening to customers is an ongoing process. For example, as Mason is expanding to new markets now, Manjita met up with some e-commerce agency partners in Singapore recently to learn how brands operate in Southeast Asia. Lazada and Shopee came up a lot in conversations as marketplaces with which Mason would need to integrate. Besides, Shopify was not as prevalent there as in North America; brands were on other D2C platforms.
"The third interesting learning was that many consumers in Southeast Asia buy from TikTok because they are always on TikTok. Shopping is entertainment for a lot of people in Thailand and Indonesia, whereas you don't necessarily think like that in North America or India," recounts Manjita.
All these takeaways from potential customers go into short-term and long-term roadmaps. Mason has one-click integration with Shopify, for example, so they need to figure out how to make it equally simple to integrate with platforms popular in SEA. And, if brands are using marketplaces even more than D2C in this region, Mason will have to rework its AI models for pricing, recommendations, and sales which work differently on marketplaces compared to the brand's own online store.
"Whether Southeast Asia becomes a priority at the moment or not, these are discovery conversations to note and understand modules that need to be incorporated at some point in time," explains Manjita.
A GTM strategy to gain traction fast and establish its value proposition, communicating that value proposition to brands in terms of what they require rather than tech jargon, and an attentive ear for customers to show the road ahead – these are the three cornerstones of Mason's playbook.