We are delighted to announce the third edition of the SaaSBoomi Awards.
The most striking aspect presaging this year's announcement is how the context has drastically shifted year-over-year in these past three years.
When we launched the inaugural version of the SaaSBoomi Awards in 2020, it was against the backdrop of the dark cloud of Covid-19. The hope was that it would serve as a rallying point for inspiring all other SaaS startups in India to aim higher and bigger despite the challenges of the pandemic. It was gratifying to see over 200 high-quality applications with many of these startups achieving amazing progress and success over the subsequent years.
The second edition of the awards last year was during an unprecedented market boom with the glut of venture capital juxtaposed against an unprecedented rush for talent.
This year, the dial seems to have shifted to the polar end of the spectrum with a funding winter and widespread layoffs.
While the market conditions have swung wildly over the last three years with wildly different expectations from founders and investors, the one aspect that has remained constant is the never-say-die attitude of our founders and their unceasing ambitions to "ding the universe". Irrespective of whether the market is good or bad, our founders continue to persist and preserve building out their products, teams, and businesses, smoothly pivoting or seamlessly changing course to adjust to new realities as and when such demands arise.
While no one knows what the future looks like, there is no doubt that companies with good fundamentals and high values will continue to hold the currency for customers, employees, and investors alike.
Lock in step with these principles, SaaSBoomi Awards continues to be an endeavor to celebrate our SaaS companies and their founders – to recognize and laud their achievements, to bring to little-known light gems, to inspire others to follow their path unmindful of temporary disruptions in markets and capital.
Why should you apply for the SaaSBoomi Awards?
SaaSBOOMi Awards is the first and only startup awards program in India that is shaped and judged entirely by the community. You will be judged and recognized not by corporate sponsors or VC investors but by your peers in the Indian SaaS community. By folks who have walked in your shoes but have strode to great heights – community members who have taken their companies to hundreds of millions of dollars in revenue, who have bootstrapped their startups to profitability at scale with hundreds of team members, who have set global standards in deep tech and cutting-edge innovation.
The SaaSBOOMi Awards program is designed to recognize a select set of exemplary startups along a thoughtfully constructed set of categories that will in essence serve as a proxy for the entire Indian SaaS industry. Winning an award here is all but guaranteed to give you and your startup enduring recognition and respect – all done by the community, for the community.
Winning a SaaSBOOMi award will also allow you to join a cohort of high-quality exemplar startups who have leveraged their success in the awards event to garner global success and recognition in subsequent years. Joining this peer group will open up access to a tight-knit tribe within the larger community.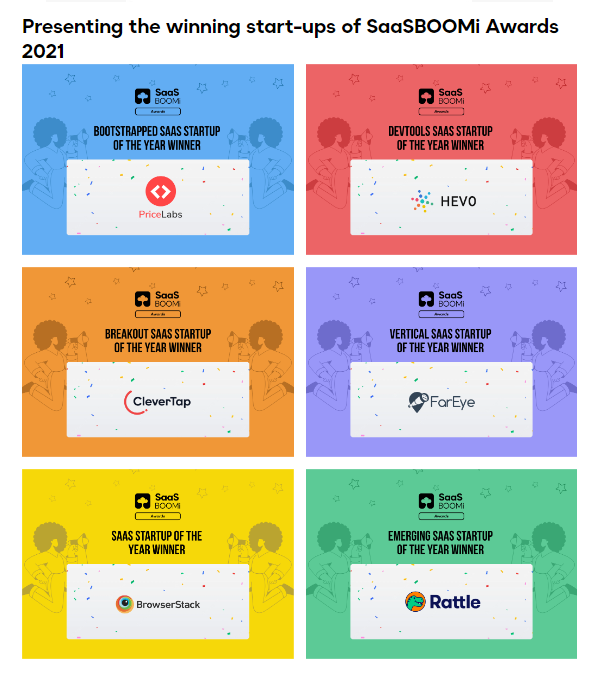 As always, we have taken our learnings while running the awards process from previous years to streamline and finetune the selection process as well as the award categories for this year.
For SaaSBOOMi Awards 2022, we're inviting applications for the following award categories:
SaaS startup of the year – For the best SaaS startup in India, which has achieved great heights at a global level and serves as a lighthouse for all other SaaS entrepreneurs in India. This will be selected by jury members among all the SaaS startups in India.
Breakout SaaS startup of the year – For startups that have achieved phenomenal traction or recognition in the recent past, whether through a pivot, paradigm shift, focussed execution, or through the acceleration of funding.
Emerging SaaS Startup of the year – For startups below $1M in revenue, which has achieved phenomenal traction in their journey from the start.
Bootstrapped SaaS startup of the year – For startups that have scaled without raising any institutional money (over $100K) and only rely on revenue to fund and grow their operations.
Developer, Tools, and Infra SaaS Startup of the year – For startups that are building tools for developers, DevOps, DataOps, Security Ops, or those used by applications or infrastructure teams, and have received critical acclaim for the same.
Wunderkind SaaS Startup of the year – For startups by young founders (below 25 years of age) that have achieved preternatural success.
Vertical SaaS Startup of the year – For startups that play in a vertical domain and have achieved phenomenal traction within that domain, be it in terms of revenue or customers.
So if you're a SaaS startup or know someone who you think deserves to be recognized, head straight to this link. Applications are open till Jan 7, 2023.