Hello and welcome back to MRR!
From Silicon Valley Bank getting into a mess to the US Fed signaling a return to higher interest rate hikes, the US market remains challenging for SaaS. But there are silver linings in the cloud – such as a surge in new startups.
Laid off? No problem!
It's time to employ yourself 😉
Tech companies laid off 160,000 workers in 2022, and 100,000 more this year, according to Layoffs.fyi. The bright side is that laid-off employees are starting their own companies, leading to a surge in startups, according to a Wired story. As Henry Kirk, who was an engineering leader at Google, posted on LinkedIn, he turned the tragedy into an opportunity with six "outstanding xooglers". "The golden handcuffs are off, and I can do whatever I want now," says Jen Zhu, another laid-off techie.
Another fallout of the tech layoffs is a loosening of admission rules by US business schools. Top MBA programs have waived standardized test requirements, GMAT/GRE test scores, and application fees for terminated workers, reports Bloomberg.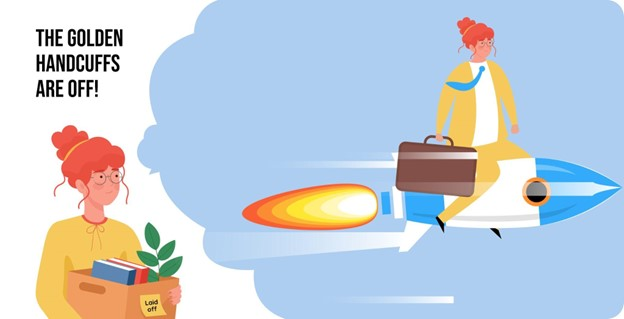 Sequoia's Surge is actually surging
Sequoia shifted its perception about being a growth-stage VC by launching an early-stage focused accelerator program in India and Southeast Asia four years back. Investing up to $3 million in its startups, and drawing upon the VC firm's vast resources, Surge began to outpace Y Combinator which had made attractive early bets in India like Meesho and Razorpay. Now Surge appears to have a higher strike rate than YC in India. Although it is yet to mint a unicorn, Surge portfolio firms have raised over $2 billion in follow-on funding. The likes of Doubtnut, Scaler, Khatabook, ShopUp, Bijak, Classplus, Hevo Data, InVideo, Juno, BukuKas, Atlan, LambdaTest, Plum, Absolute, and ApnaKlub have raised multiple rounds.
SVB in an SOS situation
Silicon Valley Bank shares tanked 60% on Thursday and continued to fall in after-hours trading, reports TechCrunch. This came after a press release disclosing it sold its entire available-for-sale bond portfolio at a loss of $1.8 billion.
The reason for this drastic action is that deposits shrank as startups, who are its main customers, withdrew money at a fast clip to cover their cash burn. They're facing a liquidity crunch brought on by US Fed interest rate hikes. Earlier, deposits had soared in the low interest rate period after the pandemic which had made startup valuations skyrocket.
Now SVB is trying to raise $2.25 billion of fresh capital to stabilize its situation and stave off a run on the bank. VCs like Founders Fund have advised their portfolio companies to withdraw money, which is making matters worse for SVB.
What spooked SVB depositors and stock investors even more is that its press release coincided with an announcement by Silvergate of its liquidation. The crypto bank had to wind down operations after being hit by customer withdrawals.
SaaS feels the pinch
Meanwhile, the US Fed chairman's statement that interest rate hikes may go higher because of inflationary signals threw fuel into the fire. Investors reacted to the statement by driving down stock prices of public cloud software companies. The likes of Datadog and Snowflake, who have adopted a usage-based model, felt the pinch harder. That's because enterprises may tighten their cloud purse strings while liquidity remains tight.To make matters worse for Datadog, its software had an outage on Wednesday, which directly impacts revenue in a usage-based model. However, the long-term trend appears to be a switch to usage-based SaaS models despite these hiccups.
Capital burns are real!
Amidst all the talk of inflation, recession, and liquidity, here's something positive. A report by Ernst & Young in partnership with Upekkha Value SaaS Accelerator says that eight out of 10 Indian SaaS companies have a burn multiple of under 1.5x. Indian B2B SaaS is twice as capital efficient compared to its global counterparts, says the report. This puts them in a good position when 'profitable growth' becomes the talking point.
The Kissflow story
Keep It Simple, Stupid. From starting out with a low-code platform, before its time had come, to pivoting to the workflow platform, Kissflow, and pivoting back to low-code – one of the core leaders of SaaSBOOMi, Kissflow founder Suresh Sambandam goes into his journey and that of SaaS, as a guest on the Forbes Startup Fridays podcast. One of his bon mots – what Kiss stands for.
Suresh shares his dream of making Kissflow one of the top two in its category, his goal of $100 million ARR rather than aspiring for valuation, and his firm belief that Indian SaaS can deliver $1 trillion in value.
The AWS of fintech: Meet Prabhu Rangarajan, co-founder of M2P Fintech, providing API infrastructure for payments, lending, and banking, on Suresh's Founder's Deep-Dive podcast. How did M2P Fintech scale at a breakneck speed from a 60-member company before the pandemic to a 1200-member company now? Find out how they disprove the adage that too many cooks spoil the broth.
Underestimated value of content marketing
Our latest Founder's Playbook feature the experience of a Guwahati SaaS startup, whose employee engagement product has been deployed in India's IT services giants as well as Fortune 500 companies. Its secret sauce? Content marketing. A necessity to be frugal forced Vantage Circle to commit to content marketing five years ago, instead of splurging on paid marketing. Today it has a 50-member content marketing team and its HR blog in six international languages gets 2 million monthly unique visitors, generating most of its sales leads from across the world. Vantage Circle co-founder and CTO Anjan Pathak shares five secrets to success in content marketing, which he learned the hard way.
Scams powered by AI
While generative AI tools like ChatGPT have become the latest craze, after cryptocurrency, there's a dark side. Cybersecurity firm Darktrace claims that phishing scams have become more sophisticated since the release of ChatGPT. Hackers are sending email that sounds more convincing.
But the genie is already out of the bottle. Multiple fields are seeing a paradigm shift, including the legal profession. Large law firms are using ChatGPT to research and write legal documents. What could go wrong?
Mindful of growing concerns, the creator of ChatGPT, OpenAi, and others have signed up to a new set of guidelines on building and using AI tools more responsibly, says a piece in the MIT Technology Review.
Survive and thrive
We're just a week away from SaaSBOOMi Annual 2023, whose theme is 'survive and thrive'. We had huge demand for the event and had to say 'no' to many who applied. Seats got taken in no time, despite doubling our capacity this year. Do accept our regrets if you happen to be among those who missed out. We will have a bigger one next time.
To those who're coming to Chennai for our flagship event, see you there soon!
Cheers,
Malavika, Sumit, Varun, & PC
---
Thanks for reading the newsletter! If you liked it, please share it with other founders to subscribe for free and get new posts on the 10th every month. 

If you have any suggestions or have some pointers on improving this, write to me please! I would love to hear from you  ❤️