Hi there,
We combed the web for you and came up with some must-reads. It has been a busy month with the US Fed slowing down interest rate hikes, a new report showing the rise and rise of Indian SaaS, and Google bringing a Bard to argue with ChatGPT. We also have some fab new content from the SaaSBoomi website.
SaaS Booming
A new report by global management consulting firm Bain & Company says that ARR of Indian SaaS companies grew 4x to $12-13 billion in 2022. Investments into this sector rose 6x to $5 billion last year, with seven new unicorns being born. The report said 14 SaaS companies funded over the last five years crossed $100 million ARR. Investors had 40 exits last year and 70 percent of them aim to increase their funding of Indian SaaS.
India has overtaken the UK and Israel to become the second largest SaaS ecosystem after the US, in terms of the number and prominence of SaaS companies. The domestic SaaS market is smaller than in the UK, but is growing at 30-35 percent annually.
Recession Cloud Recedes
After an unprecedented series of four rate hikes of 0.75 percent each and a 0.5 percent hike in December to cool inflation, the US Fed reduced the rate hike to 0.25 percent last week. Federal Reserve Chairman Jerome Powell said disinflation had begun, signaling interest rates may not go much beyond 5 percent. This is good news for SaaS companies targeting the US market, as liquidity may revive sooner rather than later and push back recession.
Another indicator of business returning to normal is a surge in jobs. US enterprises added a whopping 517,000 jobs in January, even as big tech laid off staff to prepare for lower demand. Contrary to expectations, the unemployment rate in the US fell to 3.4 percent, its lowest since 1969. This could be a double-edged sword, however, as a job boom may again fuel inflation.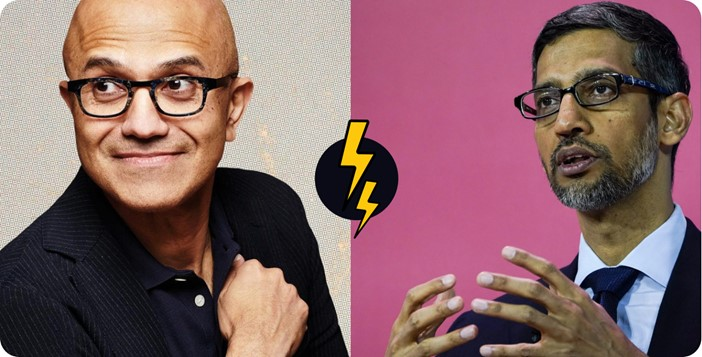 Clash of the Chatbots
IIn the last MRR, we pointed you to discussions on how OpenAI's release of ChatGPT to the public could be the next tech disruptor. Google was sitting on a comparable next gen conversational AI platform called LaMDA, but was unsure how it might affect its search engine business, because ads are harder to run in chatbots. Now it has been forced to join the fight with OpenAI, after ChatGPT got 30 million users within two months of release.
Google has brought out a Bard based on its LaMDA, with a rallying cry from CEO Sundar Pichai. "Advanced generative AI and large language models are capturing the imaginations of people around the world," he wrote in a Google blog, pointing out that Google's own research is "the basis of many of the generative AI applications you're starting to see today." Now Bard will be opened up to trusted testers "ahead of making it more widely available to the public in the coming weeks."
This has turned into a proxy war with Microsoft which is OpenAI's main backer, pouring $13 billion to help the small company get the AI computational power to build ChatGPT. Alongside Pichai's announcement, Microsoft CEO Satya Nadella held a media event to showcase an AI chatbot integrated into its search engine Bing. Even though Bing is far behind Google's search engine, Nadella spoke of it being Day One in a new race: "This technology will reshape pretty much every software category that we know… A race starts today in terms of what you can expect."
Logistics as a Service
Amazon has extended its Prime service to all US merchants, after running a sprint earlier for selected FBA (Fulfillment by Amazon) third-party sellers. This means US merchants can outsource storage, packing, delivery, payments, and returns to Amazon, thus reducing costs and becoming more efficient. Prime members benefit too because they get free, fast delivery on multiple sites.
This is a big move by Amazon to add a revenue channel and consolidate its retail leadership. At the same time, it may increase scrutiny over claims that Amazon uses third-party seller data to develop rival products. Seeking Alpha has a two-part series on why Logistics-as-a-Service could be a gamechanger for Amazon.
Rise of Usage-Based Pricing
OpenView has come out with its second report on usage-based pricing, based on a survey of 3000 private SaaS companies conducted in July-August 2022. The idea was to revisit this topic in the context of the rise and fall of valuations, big tech layoffs, and the new uses of applied AI, like ChatGPT. The report says usage-based pricing is rising but not replacing other models. The trend is towards hybrid approaches, like tiered subscriptions. "It's not usage-based or subscription pricing. Today SaaS companies are turning to more complex, hybrid models," the authors wrote.
The report says monetizing based on usage is part of a broader shift towards PLG (Product-Led Growth). "Despite market uncertainty, usage-based companies are heavily investing in PLG."
We launched a new series on the SaaSBOOMi blog called Founder's Playbook. Guru Hariharan, founder of year-old unicorn CommerceIQ, kicked it off in a two-part series that busted a number of SaaS truisms from horizontal SaaS that fail in vertical SaaS. "Whether you're talking to other founders or looking up books and blogs, they teach you the wrong thing when it comes to vertical SaaS. They made me commit a lot of mistakes. Even investors are not able to give you the proper advice because they're usually working on horizontal SaaS," says Hariharan.
From ARR being the wrong indicator for blitzscaling to how hypergrowth can kill a good product, Hariharan first covers the pitfalls he avoided in his second venture which brings algorithmic ecommerce to retail brands. In Part 2, he shares CommerceIQ's playbook for launching products in vertical SaaS and scaling with ACV (annual contract value) – the secrets behind the vertical SaaS company based in Palo Alto and Bangalore doubling its revenue and headcount amidst recession fears, and scoring an enviable NRR (net revenue retention) of 140-150 percent.
Vertical SaaS Playbook
What If a Competitor Wants to Acquire You?
Vinod Muthukrishnan, who sold Cloudcherry to Cisco, recently had to advise a friend who had been approached by a competitor for acquisition. It threw up a number of tricky questions and he realized that founders need a guide to navigate this situation. In typical SaaSBOOMi style, he called up an expert in this area, Omar Tawakol, who sold two of his startups to Cisco. And the two of them put their heads together for a playbook on dealing with an acquisition pitch from a competitor. Then Muthukrishnan laid it out in a SaaSBOOMi blog post.
One piece of advice: "There is no obligation to share sensitive information with a potential competitor. So if someone's asking for your customer list, you can refuse. You can do incremental reveals as the negotiations progress… 'My suggestion is to not give out anything sensitive until you get the term sheet,' says Omar. If people insist, give out names of customers that you know are public anyway or you're sure won't migrate out of your platform." There's a lot more practical advice in the blog.
Magic of Inbound Marketing
In the latest episode of SaaSBOOMi's BTS podcast, hosts Arvind Parthiban, co-founder & CEO, SuperOps.ai, and Varun Shoor, founder & ex-CEO, Kayako, talk to Abhishek Ballabh, co-founder, ExtraaEdge, currently serving 350+ educational institutions with cloud computing. Ballabh was part of SaaSBOOMi's SGx mentorship program, which helped him transform a hustle-driven outbound sales company to an inbound marketing-driven organization.
From marketing insights to anecdotes from his startup journey with ExtraaEdge since 2016, Ballabh goes into the making of his "Yoda mindset".
That's all for now folks! But before we say so long, here's a reality check:
---
Thanks for reading the newsletter! If you liked it, please share it with other founders to subscribe for free and get new posts on the 10th every month. Or if you didn't like it and have some pointers on improving this, write to me please! I would love to hear from you ❤️