Hello and welcome back to MRR!
And a warm welcome to new subscribers!
How will generative AI change the way developers work and think? Is this the start of a new wave of software development? Those are top-of-the-mind questions for every founder and investor these days. So we begin this newsletter with a GitHub blog that dives deep into those very same questions.
The Next Wave of Software Development
Most of us think of AI as an assistant that can take the tedium out of software development, generate blocks of code in a jiffy, and come up with smart answers to problem statements quickly. But a GitHub blog post argues there's more to it.
The blog goes into detail on how the new GenAI tools can help developers get more creative and tackle bigger problems than before, apart from making them more productive.
Google opens the gate to its GenAI platform
Meanwhile, developers continue to get unprecedented access to GenAI platforms. After OpenAI and Meta, it's the turn of Google to open up the GenAI models in its Vertex AI platform for everyone to use. Until now, it was only open to chosen testers.
Google also announced at its I/O conference last month that it is integrating its latest large language model PaLM 2, which has improved reasoning and coding capabilities, into a slew of products, including Gmail, Docs, Sheets, and Maps, reports Bloomberg.
New Ways of Computing
Google's new version of its game-playing AI, AlphaZero, called AlphaDev, has found a new way to sort items in a list 70% faster than the best existing method. It also sped up a key cryptography algorithm by 30%, according to a paper published in Nature.
"Moore's Law is coming to an end, where chips are approaching their fundamental physical limits," says Daniel Mankowitz, a research scientist at Google DeepMind. "We need to find new and innovative ways of optimizing computing."
Meta GenAI is music to our ears
Meta is building AI chatbots for WhatsApp and visual creation tools for Instagram and Facebook using its large language model LLaMA, Mark Zuckerberg announced last week. The good news for consumers is that these tools would be free to use because of Meta's ad-supported business, reports TechCrunch.Meta has also launched an open-source version of its GenAI model for generating music from a text description.
And for more on what's coming in various industries with the GenAI wave, watch AI chipmaker Nvidia CEO Jensen Huang's keynote address at COMPUTEX 2023. This was his first public speech in four years.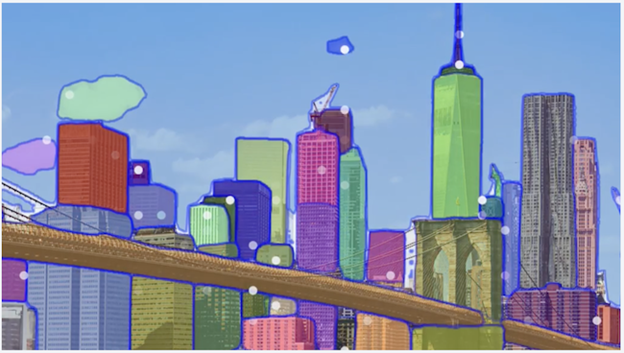 But, will Big Tech pull the plug on open-source AI?
Open-source AI didn't take off until recently, although the open-source movement has been around for decades. That's because of the prohibitive costs of building large language models. But with OpenAI's openness in giving access to GPT-3, Meta throwing open LLaMA, and now Google opening up GenAI support on its Vertex AI platform, there's a boom in smaller, cheaper open-source versions of AI models. However, these are being built on the shoulders of models created by Big Tech, and that access could be shut off, claims a deep dive article in MIT Technology Review. "The future of how AI is made and used is at a crossroads," writes Will Douglas Heaven.
Cutting back burn rates and lengthening runways
Turning now to the broader startup economy, there's evidence that founders have cut back burn rates and opted for more sustainable growth. A TechCrunch+ analysis of anonymized accounting data from 700+ startups in SaaS, fintech, ecommerce, and health tech shows that their average runway has increased from 19.6 months at the beginning of 2019 to 23.4 months at the start of this year.
While fintech and ecommerce lead the cutbacks, SaaS startups come a close third. Two of the main areas of cost-cutting, especially for early-stage startups, have been hiring and rent expenses, as they opt for remote work.
Will consumption headwinds abate soon?
In his latest weekly newsletter Clouded Judgement, Altimeter partner Jamin Ball provides an analysis of software consumption trends based on the earnings reports of public SaaS companies. His conclusion: headwinds are not intensifying but not yet abating either. But he's optimistic of an acceleration in revenue in the back half of the year. Net retention rates are still declining but gross retention is strong and new customer growth is picking up.
Caravan 2023: Your US GTM Field TripIf you're looking for ways to expand your SaaS business in the US, or even get a toehold in that market, we've got you covered. SaaSBoomi has announced the second edition of its week-long US Caravan in the Bay Area. And this time, there will be even fewer speeches and lots more super-tactical workshops, writes Vinod Muthukrishnan. Plus it will have a new Industry Connect feature to bring CXOs of global brands face-to-face with the visiting founders from India. What are you waiting for? Sign up and cross your fingers that you get a ticket to the Caravan.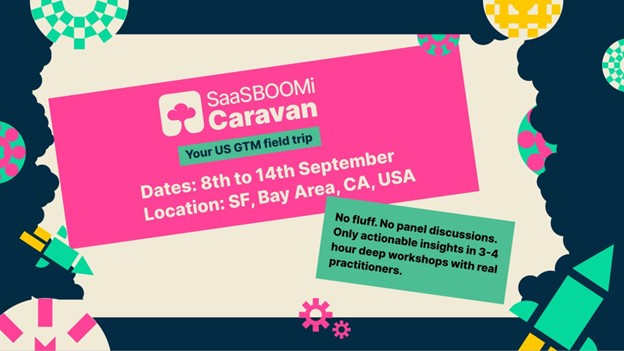 How to win customers in the US market
Talking of making it in the US market, one of the best examples of an Indian SaaS company beating the competition to become a category leader is Zenoti. Founder and CEO Sudheer Koneru now opens up his playbook on how the startup from Hyderabad went to Seattle and got the better of its much bigger US rivals."There were a lot of companies in the US who did software for the wellness industry, but didn't solve the enterprise problem, because it involved a lot of work to do everything digitally. So they would do a piece of the whole problem… Being from India, we could afford to solve the entire spectrum of problems for those enterprise customers," Koneru tells us in our Founder's Playbook blog series.
Multiplier for global hiring
The latest episode of our Founder's Deep-Dive podcast is special because it features a founder from Singapore, where SaaSBoomi recently opened a chapter. Sagar Khatri is the founder of Multiplier, whose SaaS platform allows companies to hire talent globally without the need to set up legal entities in each country. This in turn increases opportunities for developers in countries like India to seize job opportunities worldwide with insurance and other benefits, Khatri tells our podcast host, Suresh Sambandam, founder of Kissflow.
SaaSBoomi's new initiative – PULSE: As You Are
There's always something new happening at SaaSBoomi, and we're delighted to introduce PULSE: As You Are. It's an initiative to make the SaaS ecosystem more inclusive. You can read about the next steps and how you can help in this blog post by Team PULSE.
About Peak XV from the horse's mouth
Peak XV was the original name of Everest. Now it is the new name of Sequoia India/SEA. Peak XV Managing Director Shailendra Singh explains in a blog post why Sequoia Capital (US/Europe), Sequoia China, and Sequoia India/SEA decided to become fully independent entities with distinct brands. Their strategies had diverged over the years as they scaled, and the split avoided portfolio conflict. The leadership team remains the same and Peak XV has $2.5 billion of uninvested capital for the journey forward.
And now, a short film about SaaSBoomi going places
We're thrilled to raise the curtain on the trailer of a short film about how SaaSBoomi is spreading its pay-it-forward culture across India. Enjoy the teaser and wait for the film to release on Friday, the day of the week when new Bollywood movies used to release in the old days. Full disclosure: there are no songs with founders and investors running around trees.
With love,
Malavika Velayanikal
---
That's all for now, folks. Hat tips to SaaSBoomi's MRR volunteers Anand Hrushikesh, Sumit Chakraberty, and Varun Thirumalai for helping me shape this newsletter. 
A big thank you to our ecosystem partners: Accel, Peak XV, Westbridge, B Capital, March Capital, and Eight Roads for keeping our lights burning.
And thank you, dear reader, for reading this newsletter! If you liked it, please share it with other founders to subscribe for free.