I strapped into the seat and tightened the belt. The plane shuddered as it started to push back. It was going to be my first visit to the US, and I was alone. I had put the pieces together for an event at a venue I had never been to before, in a city I knew nothing about, of an event I had never attended in the past, and the person I depended on most to keep me from drowning in a pool of self-doubt was absent. It was the perfect storm.
By the time we finally pushed off the tarmac, I was sure of one thing: I would not return the same Amrutha.
I didn't.
I am writing this now, a few weeks after returning from a very successful and fun trip to San Francisco. The ambition of writing this post is not to detail everything we did. Or discuss my nervousness. This is for our wonderful guests, participants, volunteers and partners. This is a post to honour our founders, who attended SaaSBoomi Caravan and adopted the event as their own. This is for all of you who believed in us. This is for the Amrutha who nervously got into that large aeroplane.
Hindsight is always 20-20. I knew we could pull off this event without a hitch, but that unpleasant feeling persisted. Avinash often reminds me, "Perfection is the enemy of progress." But it is difficult to remember Avinash's best impression of Winston Churchill when you're organising your first international event.
But something changed when I reached Draper University on my first day there.
Just for context. Over 210 startups attended SaaSBoomii Caravan. Over 230 founders and operators attended Caravan.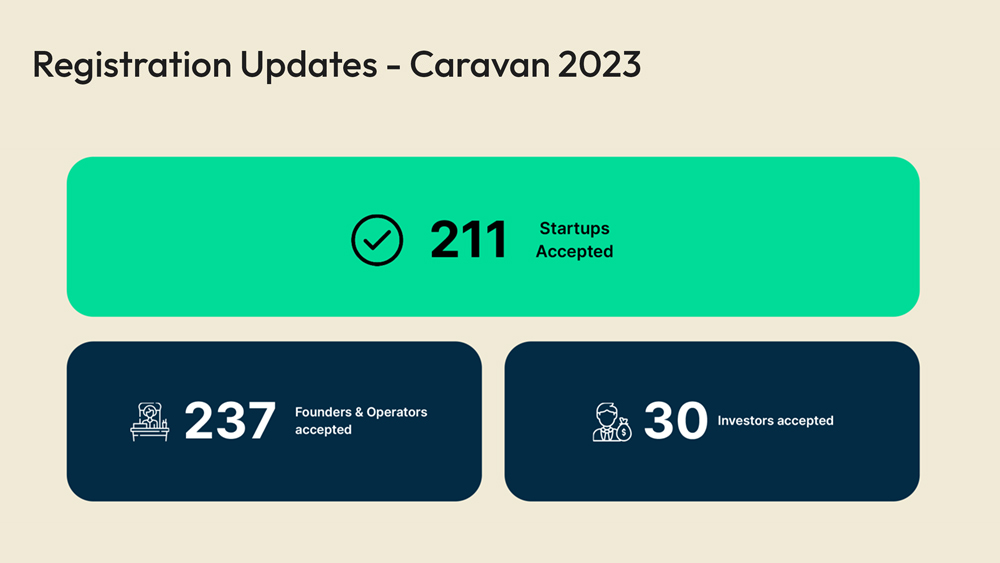 Day 1: Revelation
Draper University has a few large dorm rooms. These rooms were farmed out to our founders who were attending Caravan. By the time I got there, a few others had landed and settled in. The mood at Draper was electric. People were knocking ping-pong balls across a table, and others sat around making jokes, discussing everything from cricket to the homelessness situation in San Francisco. They didn't seem to be fazed about the event. They expected to learn, to network, and that had already started.
Day 1 involved two speeches that quite eloquently brought out the spirit of pay-it-forward and why it is necessary in the SaaS ecosystem. The first talk acquainted founders with the hard road ahead, and the next told them how they were not alone in their journey.
"Failure is a feature, not a bug," Chandar Pattabhiram, CMO at Coupa Software, opened his session with this explosive phrase. The fact is that founders will fail from time to time, and they have to learn to take it in their stride. They have to wake up the next day and keep going. Chandar involved tactical and strategic advice for persevering through these inevitable lows.
He was followed by Vinod Muthukrishnan, chief customer officer of Uniphore, who set the context for Caravan and the India-US corridor. Vinod explained how Caravan is distinct and homegrown. And because it is a volunteer-driven event, it requires everyone to pitch in, including picking up after themselves.
There was ample evidence of the DIY spirit: it is truly wholesome that Caravan is a large event that is built on lots of small contributions from everyone. Hired hands are unaffordable in the US, but participating founders were all happy to be unsung heroes and chip in — some took ownership of carrying SaaSBoomi standees into every venue, and others drove to the store to pick up water cans whenever we ran out.
Day 2: Storytelling and filter coffee
The next day we got together at the Silicon Valley Bank (SVB), at their large and very lovely auditorium. What stood out to me was how close-knit, almost familial, the entire setup was.
Day 2 was about the importance of storytelling and building a growth mindset. Paul Brown from Explanatory, who spoke to founders about how to know if their pitch resonated with customers, employees and investors, took the first session. Then there was a seven-step framework on how to build your US product-market fit, by growth coach Anurag Wadehra.
Lunch went on as usual, and we served Indian food from Mylapore Express because we wanted our founders to feel at home. There was the usual bisibelebath, raitha and copious amounts of filter coffee.
Breaks were short, but even then you could see founders enthusiastically building their network and making connections.
Day 3: An "active" community
We marked out a whole day to enjoy the great outdoors. Founders began by going on a hike in Pleasanton, which turned out to be more of a trek. But everyone helped one another up through challenging portions of the trail — the pay-it-forward analogy really writes itself here. Away from conference halls, and in California's hills, founders had a genuine chance to get to know each other, beyond their founder personas.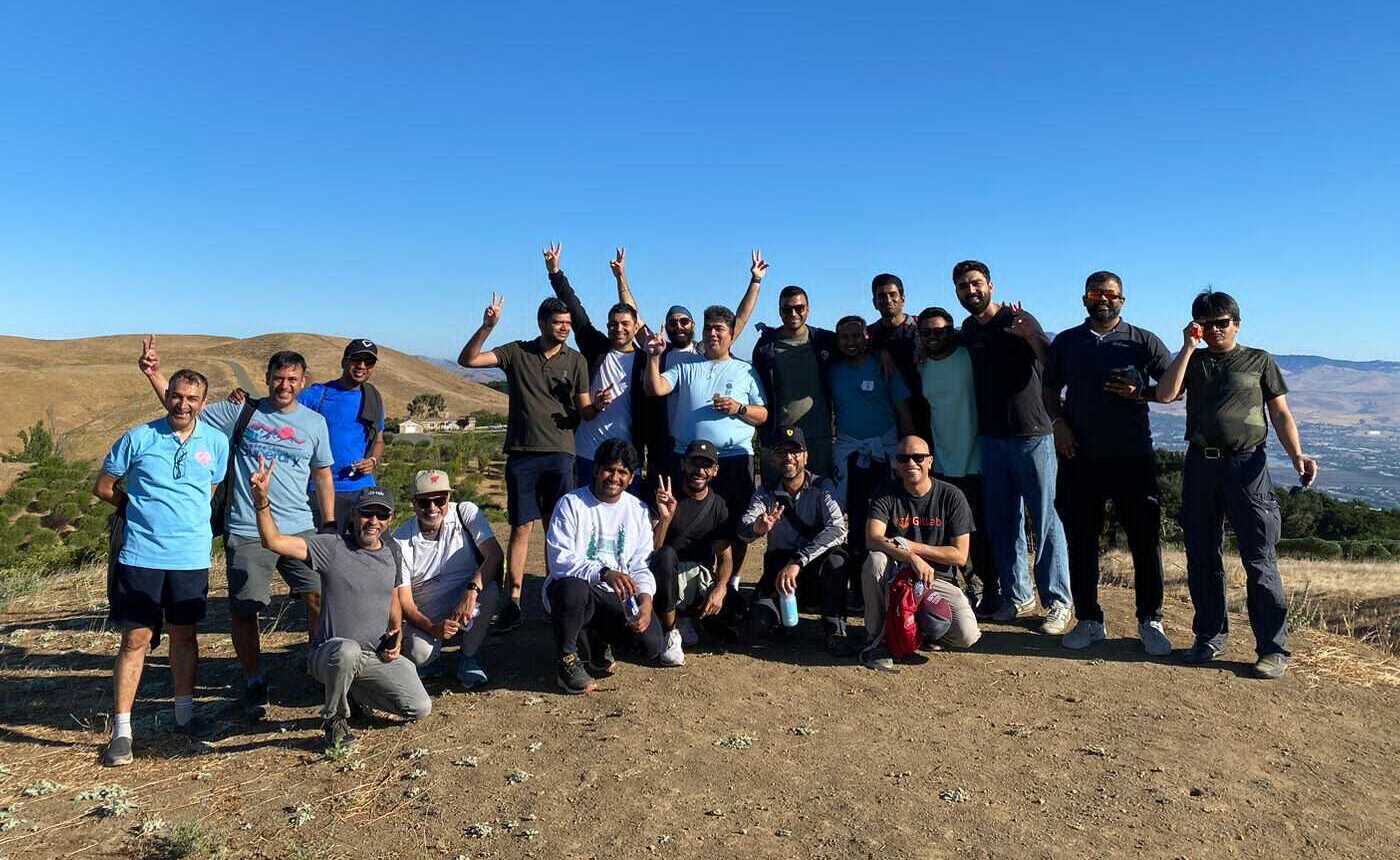 Then came a cricket game of epic proportions: Team Kamal Haasan vs Team Rajinikanth. Twenty-two founders flexed and fought it out on the field. There were equal amounts of sledging and cheering. It was like being back on the school playground, except the kids were in their 30s and 40s. The winner of Tamil Nadu's cinematic rivalry remains undecided but Caravan's sports trophy went to the Kamal Haasans.
Day 4: Learning from the experts
After a fun Sunday, we were back at SVB the next day, and I could feel myself getting more familiar with the setup. After the first few days of smoothening the wrinkles, things seemed more seamless on Monday.
Caveat: Avinash, our sutradhar, had stayed back in India to tend to a personal emergency. But he decided to show up, anyway. Not many were in the know about his arrival, but when the news spread, I felt the stress melt away. Mind you, I hadn't met him or spoken to him but knowing he was around enthused me.
The rest of the day was a whirlwind of activity. Jacco van der Kooij from Winning By Design showed up with a very professor-like mindset. His training programme on selling in the US is a big draw, and I overheard founders discuss it for hours after the workshop ended.
Post lunch, we went back to Draper University, putting into motion something we had never done before. The session was called "Industry Connect: Dancing with the Elephants," and it gave delegates a chance to meet 43 domain experts from all over the Bay Area, face-to-face.
It was chaotic, amazing, and thrilling at the same time. About 400 meetings took place over the three-and-a-half hour-long session.
Day 5: Prepare for the future
On Tuesday, we had a session on getting your first set of design partners by Ravi Khatod from Ambient Security, Nickhil Jakatdar of GenePath Diagnostics and Aditya Kothadiya from Avoma. This was followed by an M&A readiness workshop, which was super interesting for our founders. Ankit Oberoi of Zelto, Meetul Shah, GM at DemandBase, Nishant Malhotra of DC Advisory and Vinod Muthukrishnan from Uniphore led this one. They delved into the need for founders to have an exit strategy and opened up their playbooks for everyone to learn from.
Day 6: Meet and strategise
The next day was the popular VC Connect event. We had 13 VCs that founders could meet one-on-one. It went on from 10 am to 6 pm and we saw some 250 meetings take place over the course of the day.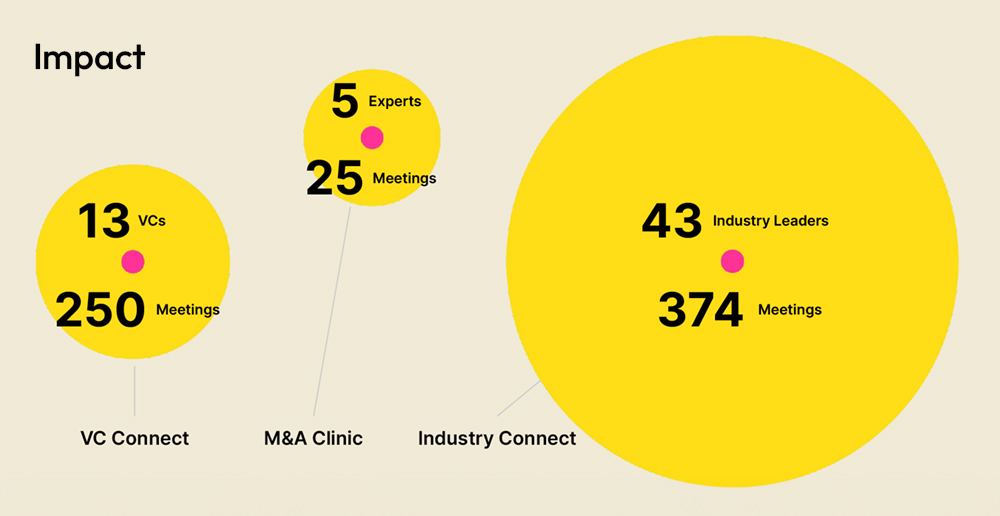 Then there was also an M&A Clinic. All five experts from the previous day took 25 one-on-one sessions with founders. The focus was to help founders who needed M&A advice at the current stages of their journey.
Day 7: The GenAI Day
In the world of technology, few things parallel the excitement of generative artificial intelligence. It was only fair to dedicate an entire day to GenAI and its place in our world. Girish Mathrubootham delivered the keynote, and that is always a big draw for founders. His language, anecdotes, and examples resonated so well with everyone's Indian sensibilities. Throughout the day, we had speakers come in and talk about the different aspects of GenAI.
Day 8: The Finale
The last day had to be fun, crazy, grand and everything else in between. I think we delivered, even if I say so myself. After a morning session at Draper University by Srikrishnan Ganesan of Rocketlane and Arvind Parthiban from SuperOps, we had the final summit at the Stanford Faculty Club.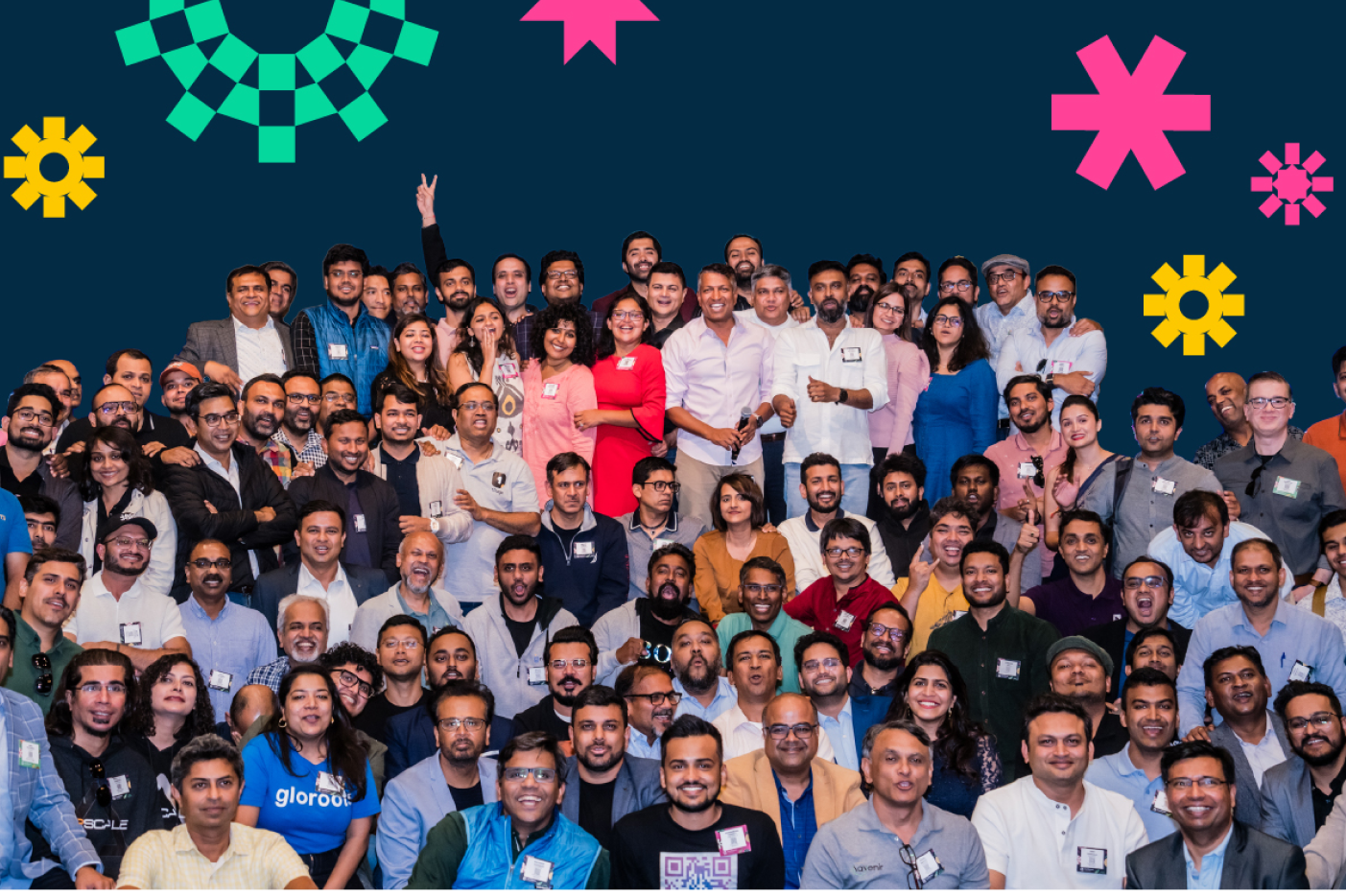 This was where we worked with an external agency because of the sheer scale of the closing event. There was a solid lineup of speakers including Jyoti Bansal, Jaspreet Singh of Druva, Sailesh Ramakrishnan and Anand Rajaraman from Rocketship.vc. What stood out to me was how relatable everything was, especially for founders. Anecdotes, early struggles and dilemmas — nothing was off the table.
The big wins
SaaSBoomi is at its heart an organisation that wants to help founders fulfil their potential. Our events are a place of learning rather than just networking. Our ambition is that one day these events will be organised, run and conceptualised by the founders themselves and we will be the enablers that we want to be.
We saw some of it in action. We had floated the idea of a peer-to-peer learning session. Neither was it pencilled in nor was it planned. But there were sessions that would pop up at 7 a.m. and at midnight. Founders were aching to squeeze out time and learn from each other.
Special credit to Rakesh Patel and Sandeep Todi, who facilitated these sessions.
Another win, which I will never forget, is the pav bhaji. This poor man's snack was a rage thanks to the Jain founders. Their dietary restrictions meant they carried packs of food with themselves to the US. And once it got later in the night, the midnight hunger pangs brought out those packets and everyone lined up to eat, talk and laugh.
But our greatest win was when the founders told us the reason they would come around to the Bay Area next year was SaaSBoomi Caravan.
The impact that our Caravan made was global and over-indexed towards early-stage founders. Of the 200-odd founders that attended Caravan, an overwhelming 87 were those who hadn't yet crossed the $1 million ARR mark. This was truly a grassroots event.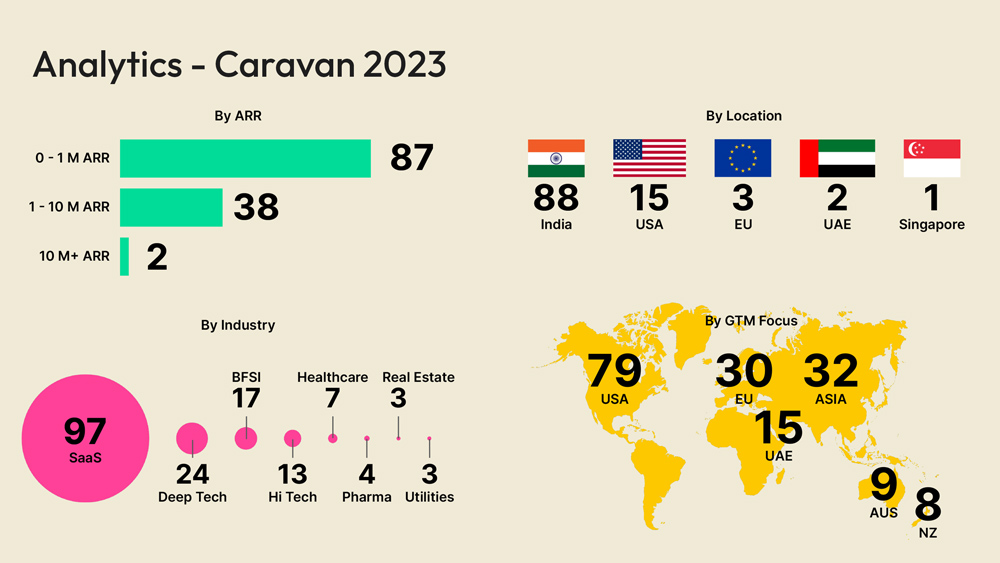 And it all comes to an end
The morning after Caravan ended, I felt like I was at sea without a compass. Our event had given me the fuel to start each day, it had given me direction. But once it was over, there was a nothingness that replaced it. As I made my way across the city and into the airport, I realised this week was not about the mission, but about learning. I had to learn a little more about myself. I learnt all I need to do is my best and my need to control everything is going to tire me out. I need to believe in the goodness of others. This time when the plane started to taxi, I wasn't filled with nervousness. All I could think of was this one incident the day before.
Avinash stood on the stage and asked the gathered audience, "If you've contributed to this event in any way, please stand up and accept our gratitude." More than half the audience stood up. The thunderous applause was louder than the aeroplane, which had lifted off the tarmac.
And now for the thank you
SaaSBoomi, at its core, is a volunteer-led organisation. The only way we manage to make an impact is when everyone pitches in. And sometimes these large organisations pitch in and you're left overwhelmed.
Without SVB and Draper University hosting us, this event would not have been possible. And all our partners who sponsored events or hosted mixers, you gave Caravan the spark.
And then comes family. SaaSBoomi's volunteers are family. They came together and made time from their schedules to organise an event of this magnitude and we managed to execute it without a hitch. They are the real heroes.